Photography
Mid‑year photography check‑in
At the start of the year, I set some basic goals. How am I doing?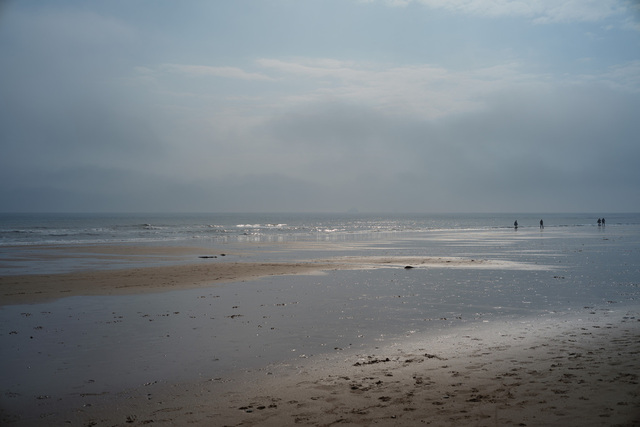 When I shared my four favourite images from 2019, I also set a few goals for 2020. Just over half-way through the year, I thought I'd check in to see if January-Adam would approve.
This year has of course been hugely disrupted thanks to a worldwide pandemic and varying states of lockdown. In terms purely of my photography, this has had positives and negatives: on the one hand, forced to split working from home and looking after our kids I've had way more time outdoors than if I'd been in the office five days a week. On the other hand, those outings have been highly constrained in range and almost exclusively been walks with the kids rather than specific photography outings.
It's been lovely having the extra family time and we've been extra happy about our move to the north-east coast—our daily exercise in lockdown was a walk to the beach and back. I think we would have struggled way more had we still been in south-east London.
Back to the 2020 photography goals, caveats and context aside. I set goals for making use of my various cameras, for the way I approached my photography, and for the subject matter I focus on.
Camera goals
Some stats
First, a few quick stats:
Usage numbers for my cameras so far in 2020, top non-iPhone usage highlighted

| Camera body | Frames made | Days used | Frames/day |
| --- | --- | --- | --- |
| iPhone 11 Pro | 4,023 | 202 | 20 |
| Fujifilm GFX 50R | 2,683 | 44 | 61 |
| Fujifilm X-T3 | 2,015 | 31 | 65 |
| Fujifilm GFX 50S | 1,370 | 17 | 81 |
| Fujifilm X-Pro2 | 1,185 | 20 | 59 |
| Fujifilm X100F | 1,031 | 24 | 43 |
| Bronica S2 | 12 | 2 | 6 |
| Bronica GS-1 | 10 | 1 | 10 |
| DJI Mavic 2 Pro | 0 | 0 | 0 |
| DJI Mavic Pro | 0 | 0 | 0 |
X series
In publishing my 4 'top' photos (really, the four that meant most to me at the time of writing), I realised they were all made with Fujifilm's medium format cameras: the GFX 50S and GFX 50R.
Much as I love those cameras, I also love the X series and was surprised not to see at least one image taken with an APS-C body make it into the top four.
Now, there are many reasons this might happen—and 4 images is not a good sample size—but I still set a goal of using my X-series bodies more often in 2020. So far, I'm not doing too bad a job, though I've surprised myself with the X-Pro2 being only my 4th-most-used camera (setting aside the iPhone).
X-T3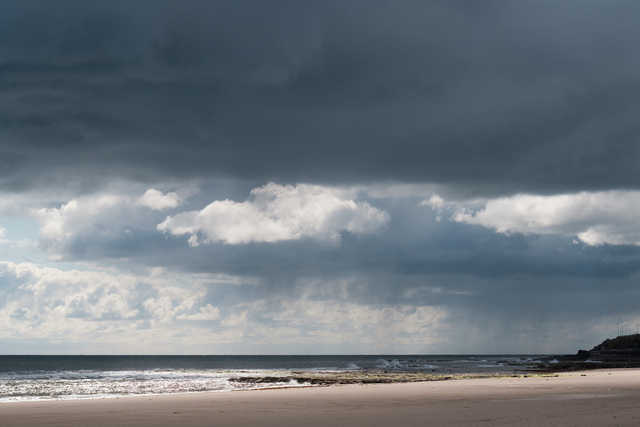 In particular, I called out the X-T3 as having been a little neglected last year and I have made a conscious effort now and then to take it out with me, resulting in it being my second-most-used camera so far this year, which surprised me possibly more than the relatively low numbers for the X-Pro2.
One thing that has helped me rekindle a love of the X-T3 has been removing the battery grip, which makes it rival the GFX bodies in size, and using smaller primes like the classic XF 35/1.4 or adapted manual lenses.
Mavic 2 Pro
Oh dear.
The poor Mavic 2 Pro has truly been neglected so far this year, and has been the main casualty of my photography during lockdown. So far this year, I have only had one 'big' photography day out—to the forests at Simonside—and while I did take the drone, I didn't end up having the time to go somewhere open enough to fly it.
A definite goal for the second half of 2020 then!
Film cameras
Another weak spot, and again due mostly to the circumstances we've all been living through. While I've been out with camera at my side pretty regularly, big medium format film cameras like the Bronicas S2 and GS-1 just don't work when out for a walk with the kids. 
At the same time, I've now had both cameras a ridiculous amount of time to not even get a test roll through each, so I have managed that and have been waiting for the labs to start accepting mail-in processing orders again. I sent a test roll for each to Digitalab a couple of weeks ago and am waiting on getting the results back, hopefully any day now!
Approach: making the most of opportunities
This one I think has been pretty successful. During the strictest portion of lockdown in the UK we could only leave the house once a day for exercise, which I used to take the kids on long walks in our area (we're lucky to have the beach as well as old waggonways). 
These regular outings became great opportunities to have a camera with me, documenting our short travels as well as building up a feel for my surrounding area (we're still only a year into living here).
Given that I've very rarely—maybe on 3-5 days so far—had cause to use multiple cameras in one day, I've managed to take photographs with a non-iPhone camera on more than half the days so far this year, which has been great.
Having a camera with me most of the time has allowed me to catch some interesting scenes, such as the foggy beach below. We had a period of quite foggy days a while back, and taking the kids down to the beach early in the mornings allowed us to catch some really cool conditions.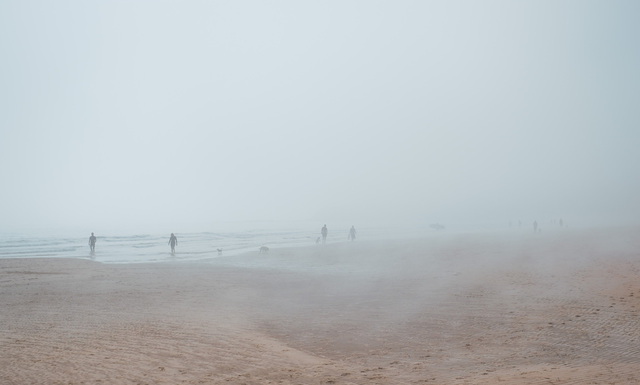 Subject matter: woodland
Here I've also done OK, especially given restrictions. We have some small woods near home that we take regular walks through and I have been practising some woodland-focused shooting where I can—mostly scouting shots to come back to when conditions are better.
My one big outing of the year so far was also into woodland: the beautiful forests up by the Simonside Hills in Northumberland. I got a few interesting shots, but again mostly ended up spending time on compositions that I can go back to another time. It was quite a windy day and near-impossible to get clean images of the trees when I wanted to.
I've found two or three really interesting little woodlands closer to home over these past few months; one that's even a walkable distance and has some lovely big old trees that pick up gorgeous side lighting. I got the shot below on one walk with the kids, but I'm waiting on a foggy day to hopefully get that bit more separation and depth, with the great diffuse light coming in from the side as they sit right on the edge of the wood by a farm field.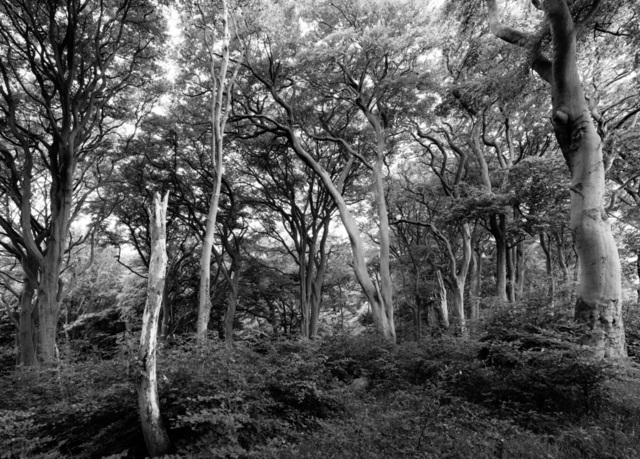 So, how am I doing?
Overall, I can't complain about my photographic year so far. No, I haven't managed to get out on many big photo days, but then we've all been going through a global pandemic and it would feel a little churlish to complain about that.
On the upside, being at home and getting out and with the kids in the mornings has not only been lovely on its own, it has also allowed me to practise a lot more photography—even if run-and-gun by necessity—than I normally manage.
I've spent time in two of my favourite types of landscape for photography—woodland and the coast—on a regular basis and my only real regret in terms of jumping on opportunities has been not getting out for any of the glorious sunsets I've witnessed from my office window.
Gear-wise, I've levelled out usage across my Fuji cameras and frankly am extremely lucky to have the problem of such choice. 
The GFX 50R has begun to stand out as my go-to camera body and with a range of lenses: the native GF of course, plus the outstanding Leica Summicron-R 50mm and 90mm, as well as various other adapted lenses including my two cherished little Voigtländers which I've begun shooting in 35mm crop mode on the GFX, keeping them at their natural focal length and image circle while still getting 30+MP images. I wrote briefly about wanting to try this in my last week notes post back in April (the shame of not having updated more recently), as a way of curbing my irrational interest in trying a Leica M body again:
"I haven't thought about trying the 35mm crop mode on the GFX which will truly give me a full frame view and still get me 30.5MP images. Even the M10 is 'only' 24MP."
Of course, just this week Leica announced the M10-R with 40MP sensor but I think the £7k price tag should safely put me off that for the time being!
For the rest of the year, I aim to keep focusing on the photographic opportunities I have (and the plan is for a full photo day this coming weekend), as well as continuing to try and spend more time on my compositions in the field.