Photography
My top 4 photographs of 2019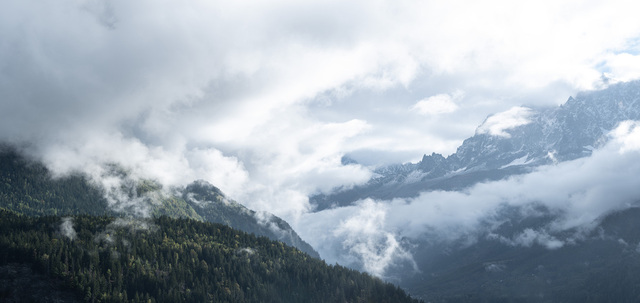 As is the trend on Twitter, photographers have recently been sharing their top 4 photographs at year end and this year I joined in. I thought I'd expand a little on my choices here.
2019 was a year full of change for me: I left a great job in London so we could move to the North East of England; as such we sold our London house and bought a new one on the coast; our second child was born and most recently, my wife and I both started new jobs on the same day.
All of which has led to a relatively weak year for me photographically, which is fine if a bit disappointing.
In terms of numbers, I captured 8,642 images in 2019, versus 22,481 in 2018. These are both very big numbers: even the lower 8,642 is just under 24 photographs per day when averaged out over a year.
Numbers can be misleading however. One of my top 4 images shown here (the sunset at Cullercoats Bay) involved a day where I made 260 raw files—of which 231 were taken in the 14 minute period between 9.39pm and 9.53pm: one every 3.6 seconds—while I manically rushed to capture the astounding colours in the sky I'd spotted out the window of my mother's house.
A huge number were also unsurprisingly family photos. A new baby and a 3-year-old provide plenty of reasons to take pictures.
But onto my favourite four non-family images of 2019…
Cullercoats Bay sunset, June 2019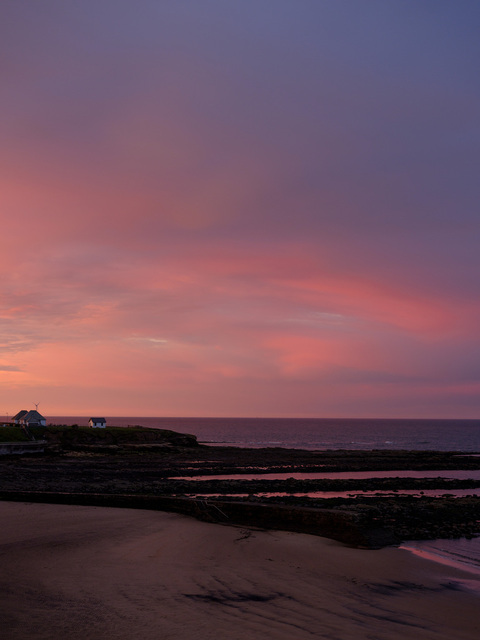 As hinted above, this was not a planned shoot at all. On a family visit, I looked out the window and saw the sky lighting up in amazing colours. Thankfully I had my camera bag with me, grabbed the Fujifilm GFX 50R, 63mm F2.8 lens and ran out to the road overlooking Cullercoats Bay.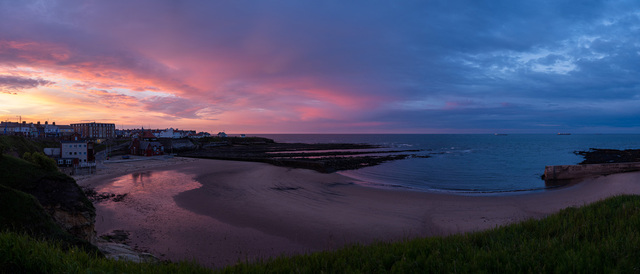 Knowing the light wouldn't last and with only a 50mm full-frame equivalent field of view available to me with no tripod, I largely focused on attempting a number of hand-held panoramas to take in the scene before me, the result of which I shared a while back.
In amongst the individual frames for stitching into panoramas however, one little scene really stood out to me and it was one I had consciously framed up while taking the pano frames: this smaller vignette of the bungalow and hut on a clifftop at the north end of the bay.
This (much!) narrower view simplified the colour palette to just the vibrant peach-pink of the setting sun with a wash of muted blue to the top right. The dark rocks provide nice contrast for the pops of reflected pink light where the sea is pushing in and the sand is also picking up a nice warm tone.
I'm just really happy this image. I do wonder if there's a slightly better composition to be had by cropping in to a similar area from the larger panorama, maybe getting a little extra to the left of where this frame stops. Doing without changing aspect ratio would lose some of the sea, particularly towards the bottom where it just laps level with the harbour wall, and so I'm not sure it will actually improve overall composition.
I love the panorama too, but this more intimate frame wins out as a favourite from the year.
Druridge Bay, September 2019

With only one top-4 image captured in the first half of the year (makes sense: it's when most of our major life changes happened), September sees the next and from another unexpected place: a short scouting trip to Druridge Bay that I've shared before. It's another on-the-hoof image that I've come to love.
I've already shared my story of this day, but the light was lovely as I reached Druridge Bay and as I crested this dune, everything lined up. The woman in red is even placed quite nicely to add some scale and this is a good example where the high resolution of the GFX allows cropping to a 17x6 panorama from a single frame and still having plenty of image data to play with: it's still a roughly 24MP final image. 
Chamonix, October 2019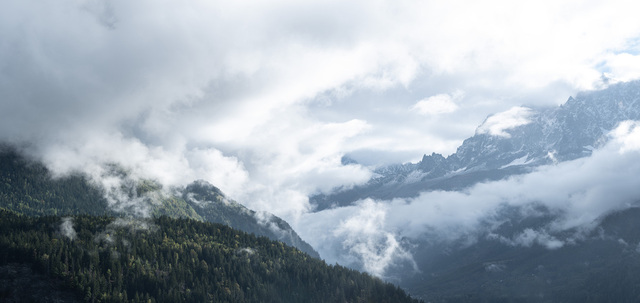 I have also shared this image before, in Photographing the Alps, but didn't pick it out as a favourite at the time. I liked a number of my Alps photos quite a bit, but this is one of those where opinion shifts over time and as images settle in your mind, or you simply leave a gap and come back to them, new images stand out and you spot issues in former favourites.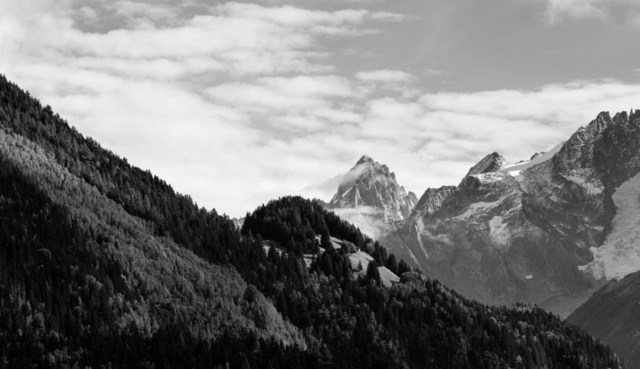 If I'm honest, it was still pretty hard choosing a single frame from the Alps and it was a close-run thing with a similarly-composed black-and-white frame in different lighting.
I could (and probably should) read this as none of the images standing out enough to truly be a top image from the year. At the same time, it's been a tough year to get out for focused photography as mentioned and although my trip to Chamonix was a stag do, it did result in some lovely images and great memories to go with them, so one gets to make the top four as an umbrella for the set.
Simonside, November 2019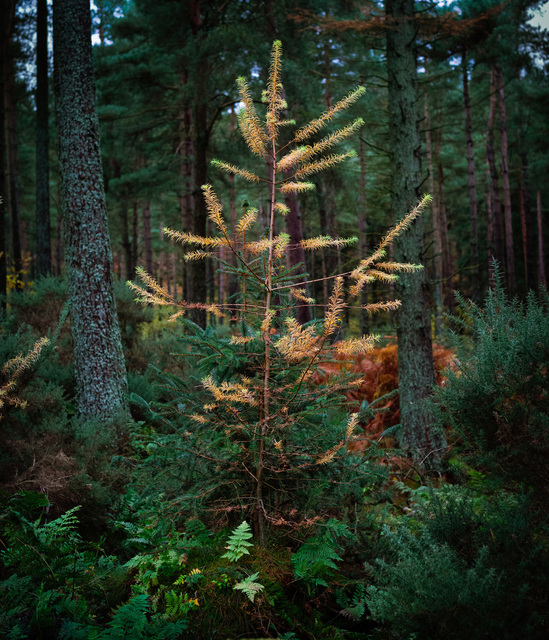 Rounding out my top four is an unpublished image totally different in content to the other three: a close detail rather than a vista.
The image itself has its limitations and while I worked on composition in the field a bit, I wish I'd listened to my instincts and worked the scene more, to try and removed a few distractions like the light branch coming in from left of frame and perhaps shooting from a higher vantage to remove the patches of sky poking through.
It's still a favourite from the year though, as a change of pace and as another reminder to myself of a great day out with the camera. I had been loosely heading for Harwood Forest, but after a sat-nav-induced detour to the wrong side of the forest for reasonable walking access, by the time I got to Simonside I didn't have time to walk to my intended location and back.
Instead, I did a quick walk up Simonside, took a few average photos and then decided to drive further on where I could see some great autumn colour on the trees, leading to a magical walk through woods of vibrant yellows, oranges and reds amongst a remaining base of green.
This young little tree was very near to where I parked and the yellow stood out like a beacon. I had the Leica Summicron-R 50mm F2 lens attached to the GFX 50S, I believe wide open given the low light. The composition is a bit messy but I love the rendering from the Leica lens allied to the detail of the GFX sensor, giving a lovely sharpness to the needles on the tree and a nice fall-off to the out-of-focus areas. 
It's a photo to view big and look at the details of, as well as a reminder to myself to slow down and focus on the details more often, rather than mostly looking at the bigger vistas. I seriously lucked out this day with the colours, but it's an encouragement to go and spend more time in woodland now I live surrounded by so many great woods within easy reach.
Where's the X series?
Something I only noticed in writing this article is that all four of my favourite images of 2019 were shot on the medium format Fujifilm GFX system: two with the 50S and two with the 50R. The lure of medium format has certainly seen me reach for the GFX bodies more and more often in the last year, even when I'd probably have been practically better off with the X system (e.g. for more fast-paced environments), but clearly the GFXs have handled it all very well.
A little over half of my photos from 2019 were taken with the GFX 50R and 50S—around 4,600 of 8,600 total—with the remaining 4,000 distributed between (in most- to least-used order) the X-Pro2, X-T3, X100F, Leica M10 (a very brief dalliance before swapping for the 50R!), DJI Mavic 2 Pro and Fuji X-E3. I also took 10 frames with the Bronica S2 late in the year, though I've failed to finish the roll of film so still don't have the images.
Neglected X-T3
My most under-used camera body compared to its theoretical position in Fujifilm's lineup has been the X-T3. It's an excellent camera that certainly hasn't deserved its relative neglect at my hands, but where the X-T2 used to exist as my 'pro' body for focused photography trips, the GFX system has taken over on that front while the sheer ergonomic pleasure of more casual and street shooting with the X-Pro2 has kept that cameras numbers reasonably high, and nearly double that of the poor X-T3 (a technically better/newer camera).
So should I sell the X-T3? I probably won't. With the battery grip and articulating screen, it's suited so much better to tripod work and the long telephoto lenses, so while the GF 100-200 F5.6 remains my longest lens on the GFX system, the X-T3 will remain important for the longer focal lengths and faster apertures if nothing else (and there's still plenty else!).
2020
X-T3 aside, in 2020 I really want to try and get more flight time with the DJI Mavic 2 Pro. The Hasselblad-designed camera is a huge upgrade on the Mavic Pro and I really haven't had chance to make the most of it yet.
Coming back to the photography itself, I obviously hope to get more time for photography this year and to jump on any small opportunity to get out with the camera. As can be seen above, one of my favourite photos of 2019 was from a rushed 30 minute walk at Druridge Bay while another was in a 14 minute opportunistic 'session', so every little can indeed count.
I've mentioned wanting to spend a bit more time exploring woodland photography, while my work on location scouting app, SceneMapper, has also brought some new focuses.
Not to mention, I need to spend some time with my film cameras: The Bronicas S2 and GS-1.
A busy year ahead then…