Photography
St. Mary's Lighthouse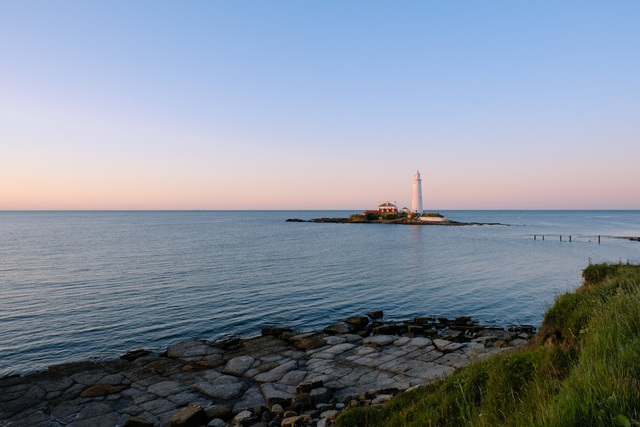 With the new year, I had the bright idea of writing an article covering 'my year in photographs'. The one minor setback to such a post is that—according to Lightroom—in the calendar year 2017 I took just over 28,000 frames while my 'Processed' collection contains the grand total of 298 processed images that same year. 
In other words, just a little more than 1% of the photographs I took have made it as far as being processed, and over half of those are accounted for by two sets I did as batches: Goodwood FoS and the Funding Circle photo walk.
So here we are, towards the end of January and no 'year in photos' article written yet because of course I set off on a pass through every photograph I took last year—picking selects first and then giving rough star ratings based on my feel for each images potential. I'm now in the process of doing quick edits on the images that feel right.
Something I've really found is that mood and timing are crucial for me in getting the best out of a raw image. When editing/processing my images, I'm trying to recreate the feeling I got from the scene while there and, removed from the scene itself by distance and time, sometimes I'm just not in the right mindset to work on a specific image, much as I might be keen to publish the end result I can picture in my mind's eye.
Sometimes, an image or set of images need to just sit, maturing in my Lightroom library until I'm ready (either technically or mentally) to do them justice. I spoke in my Goodwood post about how it took around five months before I found the right look to represent my impression of FoS last year. 
I do lament not having had more time to work on my photographs last year but at the same time it's provided the space for some of these images to grow on me. There are selects I've picked out now that I'd ignored shortly after taking them and picking selects the first time around. I found a few hidden gems that even when taking I hadn't expected much to result. 
But what about the lighthouse?
All of which is a very lengthy lead-in to today's photograph, of St. Mary's Lighthouse in Whitley Bay. This photograph definitely sits in the 'hidden gems' category for me as I've been through the photos this day in July a number of times and it was already one of my most productive photography days of the year, all jam-packed into an unplanned, hour-and-a-half blitz. 
In the run up to launching the new Funding Circle brand late last summer we'd been lining up some photography with an agency that fell through at the last minute, leaving us around four weeks to hire someone else or solve it ourselves. Having worked with Radek for so long, it was a pretty easy decision to book in a few days to head to a good location and cram as many photographic options in as we could. Without any real time for scouting or booking locations, we went north and more specifically to the North East of England. It's where I'm from and so an area I know very well, while Northumberland has an abundance of stunning scenery and variety of scenery too. 
I drove up on the Friday evening to spend the weekend frantically scouting areas I thought would be good bets, while Radek got the train up on the Sunday afternoon. Radek having arrived, checked into his B&B and had a quick dinner, we decided to drive over to St. Mary's Lighthouse for sunset to scout the place out as an option for the next couple of days when we had professional models booked. The weather was insanely good and I went against every strand of my shy self and stood in front of the camera as a stand-in for Radek to shoot and get ideas for compositions. In the end, we didn't get back to the lighthouse with the models as we shot elsewhere but some of those test shots turned out really nicely and somehow an image of me standing on some rocks ended up being our homepage hero image for launch (it's still there now!). 
Anyway, back to the lighthouse image you can see here! 
We took test shots until the sun dipped behind the cliffs and then started to scramble up to see if we could catch any last rays from the top. As we began to head back to the car, the post-sunset twilight caught in the sky, bringing lovely peach and magenta tones that caught the lighthouse with a beautiful clear sky as backdrop. I fired off a few quick shots hand-held, more out of compulsion on seeing a beautiful scene with a plan of any sort (see above) and we made our way back to the car. 
Sifting back through all my photos from 2017, two of those seven frames stood out to me (and indeed, looking again now to count the seven, I've noticed three more I took round the next corner that look promising). On my quick ratings, I'd given one three stars and this one four (my bar for classifying something as one of my 'good' images). Coming back to processing images in the right moment, this raw file stood out a second time once I'd got my selects for the whole year and so I started a quick edit to see if I could polish it up quickly or if I should leave it for another day. The raw file was already pretty close so it was just about tidying some things up and getting the colour right. 
The edit
As a first pass I applied my 'Levanto sunset' preset, which is a subtle set of changes that help to bring out the colours for these magenta-tinged evening skies; settings I hit upon while processing (you guessed it) a couple of sunset shots from Levanto in Italy. From there, I didn't need to do much more: just tiny colour adjustment, sharpening (including running the file through the excellent Iridient X-Transformer), a teeny horizon correction and spot-healing away a small but distracting boat sitting on the horizon. 
I'm currently very happy this photograph. It was a pleasant surprise to find in my library and I'm really pleased with the end result. I've also found though that a bit of extra distance after processing a file can often lead to me hating what I've done (another reason not to publish too quickly) but I'm pulling the trigger on this one, and on this late-night, rambling post. 
I hope you enjoy!