Photography
St. Mary's sunrise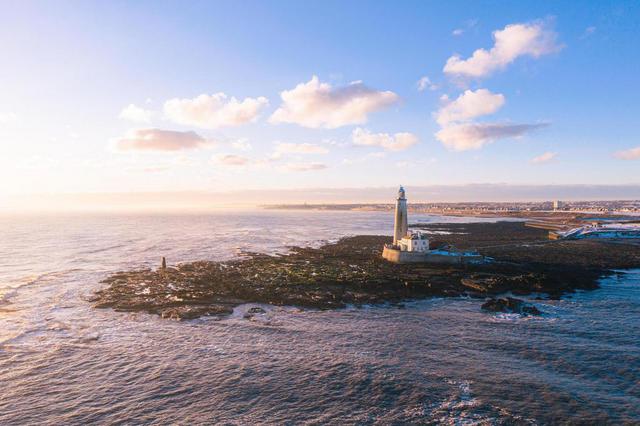 With a day off last week, I dragged myself up and out into the bitter cold to go for a morning's photography in my surrounding area.
A splitting headache and neck pain sent me home again much earlier than planned but while I couldn't particularly enjoy being out, I did oddly get a few photos I'm very happy with, including this aerial photograph of St. Mary's Island and lighthouse.
As a bit of an unplanned outing, I didn't commit to getting out for sunrise—instead seeing what time our one-year-old would wake me up—and he oddly left it relatively late. Once up though, I quickly got packed and over to the lighthouse, missing sunrise by mere minutes but still catching some lovely light.
After a slightly panicked couple of minutes shooting anything I could from the car park—just trying to get something from the amazing light—I regrouped, got my pack from the car and very gingerly made my way down the icy ramp to the rocky shoreline.
I made a few frames on the way with the GFX 50S and 100-200mm lens, but didn't feel I was making much headway (I'd actually taken 3-5 compositions I'm quite happy with) and decided to fly the Mavic 2 Pro instead. This I enjoyed much more, taking a wide loop around the island with the drone to work the scene a little and find good angles on the lighthouse with the sun still low on the horizon.
I have a bunch of compositions that work quite well, but for now this is my favourite by a hair.
It places the lighthouse against the coastline, while mostly allowing the lighthouse to stand clear and captures some of the nice early morning light on the waves and dark rocks.
After landing the drone, I took a few more stills with the GFX before confirming that squinting to look through a viewfinder into low sun was far from ideal for improving my headache and so I trudged back to the car for a sit down and see if the headache would settle. It didn't, and so 30 minutes later I gave up and drove the short distance home again.
It's rare I get the opportunity for a bit of dedicated photography time, and rarer still for a sunrise (ish) shoot, so I was extra disappointed at cutting things short. Importing and reviewing the images that evening though, my mood was lifted considerably as I found a number of nice frames to work with—and not only from the drone!
More to come another time then…