Photography
Late October morning in Greenwich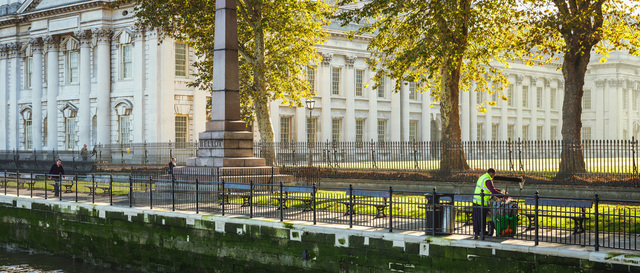 As we roll into autumn proper, here's an image taken in late October 2018 on a short stroll around Greenwich with my eldest, only a toddler at the time.
It was a lovely morning, with beautiful light bathing the area and this scene in front of the old Royal Naval College really caught my eye.
We had already walked through the gardens from the Cutty Sark where I'd caught a couple of other nice shots in the low, side-lit morning sunshine. There were blue skies, but in processing these images they've all ended up working best in the panoramic 65x24 ratio—of the Fuji T-X1/Hasselblad X-Pan—where the sky is cropped out and so doesn't distract from the scene itself.

Greenwich is a truly gorgeous place on days like this, and looking back at these images I'm surprised it was so quiet though it helps make the images. 

As an example to end with, here's a square format view from a similar spot to the main image. I that it's emptier of people and we can see the full obelisk, though in exchange we get a block of empty sky that draws the eye away from the interesting elements in the scene.