Photography
A serene morning at Cullercoats Bay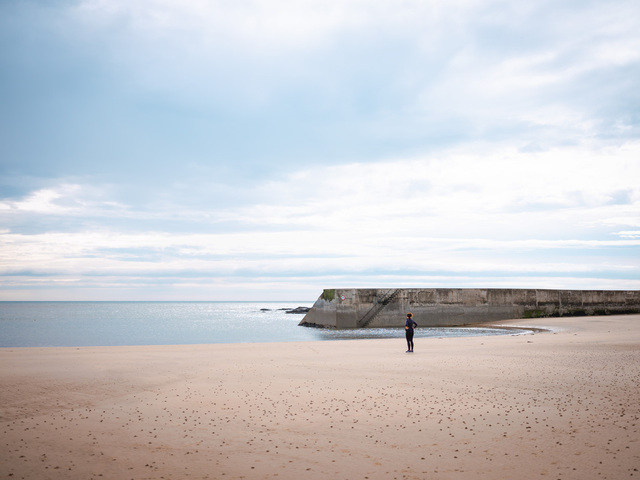 One morning a couple of weeks ago, I took the kids down to Cullercoats Bay for a play on the sand. Conditions were beautiful and calm.
The tide was out and the beach was covered in worm casts, as well as circular drill holes from people digging for the worms. Remarkably though, the sand was pretty smooth and clear of footprints from the recently-receded tide before too many people walked on it.
Playing with the kids and taking photos of their antics on the sand, after a short while I looked up and saw the scene above: a single runner taking a breather by the water's edge, looking out to sea.
The way the runner was standing looked almost posed and the conditions conveyed a calmness that really worked with someone looking out to sea, enjoying the morning so I took a shot. A minute or two later, the runner had moved a little further round and another composition presented itself, so I took another frame and then a near-repeat of the first composition that was now free of any human presence. You can check those out below.
Beach-street photography?
Not long ago I shared an image from Tate Modern in London and wrote about taking street-style photos indoors. 
When writing about the Tate image, I did a quick bit of searching online and the consensus seemed to be that the style of photography, done indoors, could still be grouped under 'street' photography. I think the two photographs here with the resting runner as subject sit in a similar genre.
Defining genres is always going to be arbitrary at some level sooner or later and doesn't really have much impact on the images themselves, but I do find it interesting to think about. They're all a form of documentary photography really—they document found scenes—though I wonder if the colour toning and other minor post-processing is what would push them more towards the street than documentary genres.
Either/or, they were scenes I found and enjoyed, and I hope you do too.