Photography
Tate Modern 'street' photography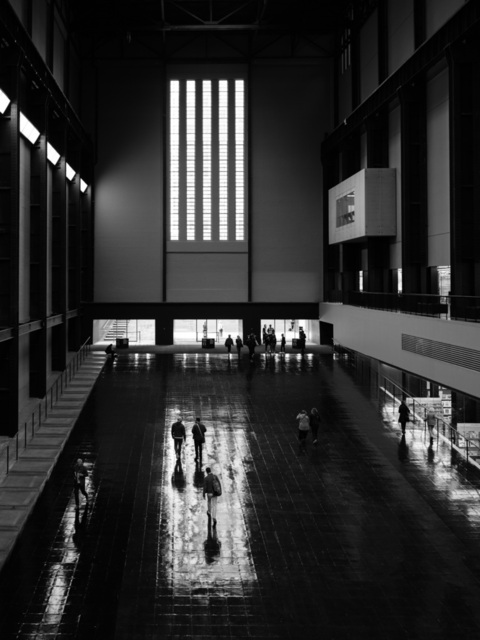 Is there a name for street-style photography done indoors?
I've written before about my regular trips to Tate Modern when I worked just over the river in London, both as a great people-watching location as well as a photographically rich location for testing different camera gear in a dynamic but relatively repeatable setting.
Today's image was from one such visit: playing with the Fujifilm GFX 50S a couple of days after receiving it and while still getting a feel for both camera and lenses. I'd gone for a walk to Borough Market for lunch with the 50S and GF 32-64mm lens, looping round to Tate Modern on my way back to the office.
I got quite a few keepers on this early walk with the GFX 50S, including the top-down street shot I shared recently.
This image was taken in the Turbine Hall within Tate Modern, from the large mezzanine/platform that crosses the hall at ground level, looking back out towards the entrances on the west side of the building.
It's a popular shot and I've taken variations on it plenty of times before, with the tall windows and dark interior creating some lovely shapes and contrast. 
Having left London over a year ago now, I do miss my lunchtime walks in the city and particularly along the river. The people-watching and architecture on offer in London can't really be had in many other places but I have replaced it with beautiful coastline and easy access to more great landscapes in-land.
For street photography though, I'm yet to find my rhythm up north. I haven't actually been into Newcastle city centre all that much, and not at all yet with a camera.
Once we're all allowed out of our houses, it's something high on my to-do list as Newcastle does have some lovely buildings and plenty of street photography potential.