Photography
Cullercoats sunset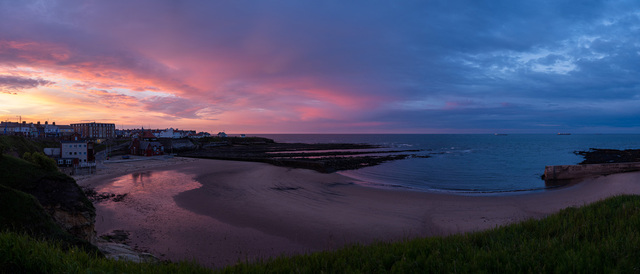 This wasn't a bad welcome back to the North East! 
We've been staying with my mum for a week ahead of the move into our new house and after a very rainy first couple of days I spotted a lovely red glow out the window on the third evening and ran out to the edge of the bay with the Fuji GFX 50R.
I just managed to catch some of the fantastic colours in the sky and with only the 63mm ƒ/2.8 lens I took this rather large 28-frame panorama hand-held. The full-size image is around 295 megapixels!
There's a little spot on the horizon where Lightroom has struggled with the photo merge that I need to clean up when back on my main computer but it's not really noticeable unless you can zoom in on the original. Pretty good I think for a hand-held pano with so many frames and a lovely early capture on my return to the North East.
GFX 50R as travel camera
A note on the Fujifilm GFX 50R. Having just recently bought the 50R and needing to travel light for this trip as we took the kids up on the train, I decided to give the medium format rangefinder-style camera a good go as a travel/street camera. It's replacing a Leica M10, so I'm trying to test that it works for the kind of everyday-carry photography I hoped the Leica would have worked for.
The only GF lens I have that comes anywhere close to being small (relatively!) is the 63/2.8 prime so I brought that as I did want at least one native lens. I supplemented that in my bag with the Leica Summicron-R 50/2 and 90/2 lenses which both work really nicely on the GFX sensor, as well as my latest vintage acquisition: the Vivitar (Komine) 28/2 close-focus. 
Overall, I've enjoyed using the GFX 50R as a travel camera. The 63/2.8 of course pairs well and has insane image quality. It balances pretty well on the 50R too.
The two Leica R lenses also sit pretty well on the rangefinder-style GFX 50R with a Leica R-GFX adapter and cover the sensor well too. I've had an outing each for the 90/2 and 50/2 on this trip with good results (I've been impressed with the resolution possible from these lenses). The Vivitar I haven't got round to using yet, but maybe I'll stick it on for my journey back to London tomorrow ready to finally pack up our house.