Photography
Peak Design Everyday Messenger bag: long-term review
A good-looking, functional messenger bag at home with your camera gear or even as a nappy bag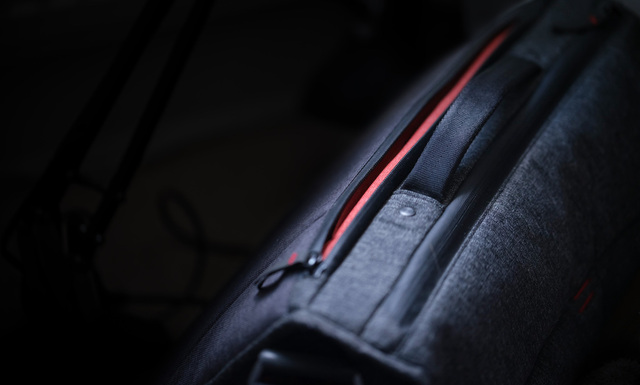 The first bag Peak Design produced, and one I still use regularly today, the Everyday Messenger is a great camera messenger, and a great everyday messenger to boot.
I wrote a first draft of this review way back in 2016, having had the Peak Design Everyday Messenger (EDM for short) for 8 months and awaiting my order for their next Kickstarter-funded bag, the Everyday Backpack. 4 years later, and still regularly using the EDM, I thought I had better finish it.
Everyday messenger
While Peak Design started as a camera accessory company, and this bag has plenty of camera-focused features, Peak Design was clear from the start that it should work as an all-round everyday carry bag.
I have the original, larger version of the EDM that fits a 15" laptop (snuggly) and it has indeed ended up covering a variety of uses for me over the past few years.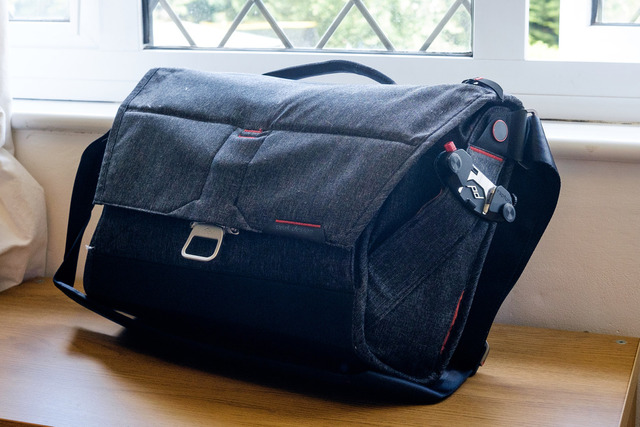 On the outside
One immediate attraction of the EDM was its looks: it doesn't look like your standard black nylon camera bag but has some style to it—a style that Peak Design has refined over subsequent years.
The outer material is a waterproof, synthetic canvas that has a brushed feel to touch that has indeed protected my gear on many a rainy day. It looks pretty good though to this day I do kind of wish there was a more classically-styled leather version with the same core features.
Access
There are three main access points on the bag: 
MagLatch
The main flap, which snaps locked with PD's MagLatch: a magnetic latch that is really easy to engage and requires just enough knowledge to unfasten to slow down casual pickpockets. The magnetic latch allows for a kind of ladder system to expandability, with the latch simply attaching to a different bar depending on how full it is.
Quick top access
There's a water-resistant zip running the length of the top flap which allows quick access to the inner contents while the bag is on your shoulder: great for a quick camera/lens swap or grabbing whatever else you have at the top of the main compartment.
Laptop sleeve
On the rear of the bag is another full-width zip that reveals the laptop/document sleeve. You can (and I have) fit a 15" MacBook Pro as well as an iPad in, though it's a tight fit and you probably want to do it before the rest of the bag gets too full and it gets too tight.
Outer pockets
Each end of the EDM also features pockets for storing small items, both with a reinforced band to attach a Peak Design Capture clip and one with a PD Anchor link for attaching keys to store in a pocket (I have a little lens cloth that lives in a small tub with a karabiner attached, that someone bought me years ago and is handy attached to the Anchor link).
The Capture clip points are really handy for quick-access stowing of your camera.
Straps and handles
Rounding out the outside, there's a carry handle on the top that is very sturdy and still feels strong and reliable years later, as well as a seatbelt-style shoulder strap (effectively a version of the Slide camera strap) which has a bit of rubbery material on one side for extra grip on your shoulder when needed.
Inside the bag
Opening the top flap reveals the main compartment as well as a front pocket section that is protected by an extra wrap-around zip.
Tripod sleeve
Under the main flap is a clever integrated sleeve/tunnel that you can slide one leg of a tripod through to then hold the remaining two legs on the outside of the bag. A strong rubber band—which I never actually use—is included to hold the legs together as well as a wide, shallow zipped pocket the length of the sleeve where you can store it (and other small stuff). 
The tripod sleeve works surprisingly well, though it obviously makes the main flap cumbersome to use, bringing that top zip access into play more often.
It's been a great feature to have on the bag when I've needed it and it's a shame it seems to have disappeared from the newer design.
Main compartment
The main storage area is a good size and includes three FlexFold dividers that, as the name suggests, fold to give a flexible array of storage options, creating taller or shorter spaces for things like cameras and lenses as needed.
Depending on how you set up and fill the dividers, you'll be left with a reasonable amount of extra space above to add extra items like a jacket or the excellent Field Pouch which was an optional extra in the original Kickstarter campaign.
At the back of the main compartment there's a padded inner pocket suitable for a phone, small notepad, passport, etc. I used to use it to house a 2.5" external hard drive for travelling.
Front pockets
At the front of the bag is a zipped compartment with an array of thoughtfully-shaped and -sized stretchy pockets (also sadly missing from the new design), including colour-coordinated green and red memory card sleeves for blank and used cards. The designer in me wishes there was an extra visual cue beyond colour to help the colour-blind among us, but it's still more thought than many bag manufacturers put in.
The same colour coordination appears on the facing larger pockets, aimed at used/unused batteries.
In use
Having received my bag in December 2015, my Everyday Messenger has had a good run so far. It absolutely became my everyday bag for the first year, travelling to work in London and back with me every day and giving me quick access to a camera at all times.
With the release of the Everyday Backpack the following year, I did switch to the backpack for most everyday carry and certainly for dedicated photography days, just due to the extra capacity and more comfortable carry with two shoulder straps. 
The EDM has remained in use though. It's been an overnight bag for short trips, carried ancillary camera gear on bigger trips and jumped back into its everyday carry mode as needed. The Everyday Messenger is a really nice bag for street photography and style-wise it stills looks pretty good too.
Small gripes (over 4 years of use)
4 years is long enough to get fed up of most things. The Peak Design Everyday Messenger has done remarkably well for me on this front—I'm using it every day again at the moment as my work bag—but there are of course a few things that irritate now and then:
Top access
The quick-access zip on the top of the bag is awesome, but reveals a couple of flaws in the bag design for me.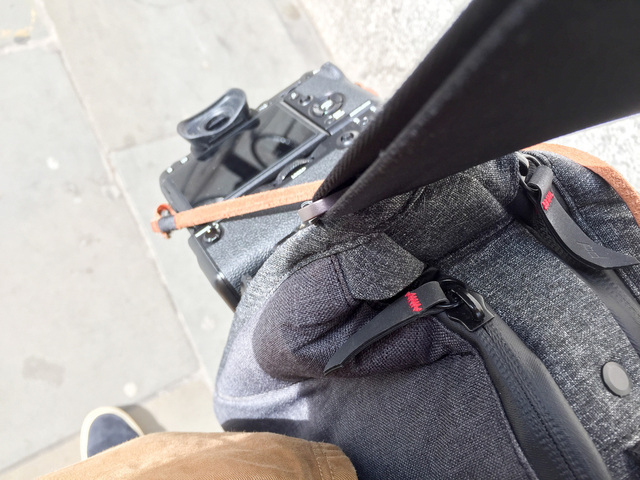 First, the way the shoulder strap pulls against the very edge of the top flap has meant that as the bag has softened over time, the edge of the flap bends inward and nudges the top zip open just an inch or so. The result is that I get paranoid about it starting to rain and making sure the zip is fully closed to protect my gear inside.
Secondly, with the dividers living in the bottom of the main compartment, any extra gear has to be layered on top, rendering quick access to camera equipment quite a lot slower as soon as you do something so simple as store a jacket in the bag. I don't have an easy solution to this, but it is an issue.
Shoulder strap
The shoulder strap, as mentioned above, is very similar to Peak Design's Slide strap (of which I have the lovely 'Lassen' red Summit edition): seatbelt-like material, padded in the middle, with two clever quick-adjust handles that slide easily up and down to shorten or lengthen the strap. One side is smooth for cross-body carry and the other side is grippy for hanging off a shoulder.
Over time, both the grippy side and the adjusters have worn: the grippy rubber has smoothed out and tends to slide off my shoulder and the adjusters have a habit of sliding loose now and then, even with the handles folded down in the 'locked' position.
Laptop sleeve
I also mentioned earlier that the laptop sleeve can be tight. Fitting a 15" Macbook Pro in the EDM often involves a bit of a scrape from the zip on the edges and if the main compartment of the bag is full, pulling the cover tight, I often have to open the top flap to loosen things up enough to get the laptop in. This also means it can be fiddly to get back out again.
Field Pouch
This isn't really a review of the Field Pouch, but I got the two together and they pair so well it's worth mentioning. I only bought the Field Pouch initially because it was included in a bundle on the Kickstarter campaign, but it has seen more use than either of my PD bags because it's been in constant use in both of them.
Essentially just a medium-sized pouch with flap and inner pockets, it has become my backup tech kit that I can throw in whichever bag I'm using and know I'll have spares of things like cables, lens wipes and tripod plates. The only aspect of mine showing real signs of age is that the velcro doesn't really have much adhesion left to it, so it might be one to test Peak Design's lifetime warranty in the not-too-distant future. 
Again, Peak Design has updated the design of the Field Pouch and it looks like there are some nice new touches to the latest versions but I still love my original.
Conclusion
The Peak Design Everyday Messenger is such a good bag. Starting a new job recently, I've been really tempted to splash out on a nice new leather or canvas messenger—something like the ONA Union Street—but then I remembered how much I actually like the EDM and decided to bring it back into daily use.
Now-slipping shoulder strap aside, the bag has been as good as it was when I first got it.
Looking at the recently-updated design for the Everyday Messenger, there are some nice improvements but a few of my favourite aspects of the original have also been removed which is a shame (not to mention there's currently only a smaller option for 13" laptops, not 15"). Picking up one of the older designs second-hand might not be a bad idea if you're in the market for a very functional camera messenger that works for everyday carry too. They hold up well to wear and tear.