Gear
Atlas Adventure camera backpack
The ultimate photographer's backpack?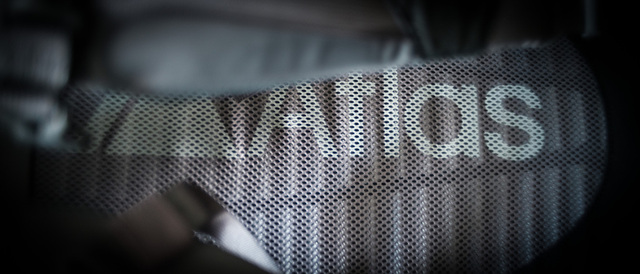 Just like many photographers, I've been through a number of bags for carrying my equipment in the never-ending quest for The Perfect Camera Bag. My latest attempt is the Atlas Adventure pack from a small company in the USA.
I first came across Atlas packs via Chris Eyre-Walker's Youtube review of the smaller Athlete pack and loved some of the design decisions they'd made as improvements over other camera backpacks.
One of the main attractions was the idea of a camera-focused backpack that had a proper hiking frame for comfortable carry of heavy loads on long days. 
Some background
I'm the kind of photographer who can never decide which equipment to leave at home and end up carrying far too much gear with me, hitting its worst at the Goodwood Festival of Speed (FoS) a few years ago when I'd packed way too much heavy camera equipment into the Peak Design Everyday Backpack (EDB) and ended each of the two days with my shoulders swollen and very painful.
I love the EDB for its intended use—as an everyday carry bag—but its strap system just isn't good enough for long hikes or heavy loads and not long that FoS event, I bought the larger 500AW version of my old Lowepro Flipside 400AW to get better comfort again for long photo days.
The Flipside is a great camera bag but suffers as so many camera bags do from a lack of space for anything that's not a camera or lens. 
Enter the Atlas Adventure.
Overview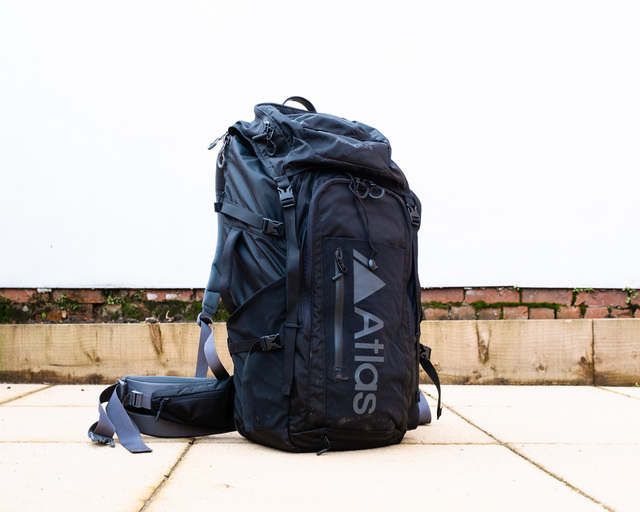 In general appearance, the Adventure looks like a large 70-litre hiking/trekking backpack and follows some core concepts of the category, including metal frame and harness for weight distribution and a top flap that integrates plenty of pockets and extra storage on top of a pull-cord opening to the main bag.
Where the camera bag features kick in are with the rear-access panel opening onto a relatively traditional camera core layout. Atlas has a nice bit of innovation with the 'Origami' top section that can pull out to give more space above for non-camera gear, or push in to create a larger camera compartment.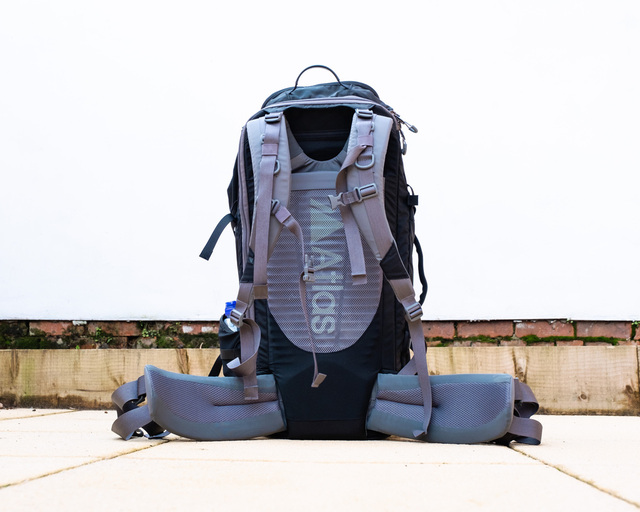 The back panel is nice, with the entire rear (depending on your point of view: it's the bit that sits against your back) of the bag opening out with nice large zippers. The harness and straps fold out with the panel, avoiding the issue I often have with the Flipside where the straps get in the way of the zips and general access.
Nick Page makes a good point this means your straps may now be lying in the dirt, though with the depth of the bag I haven't found it a big issue and it's certainly no worse than all the bags that open at the front.
Roughly the top third of the bag inner is dedicated to space for other items like clothing, etc. and this is augmented really nicely with the fact that you can actually stuff more items down the full height of the 'behind' the camera core, with the bag expanding out to fit.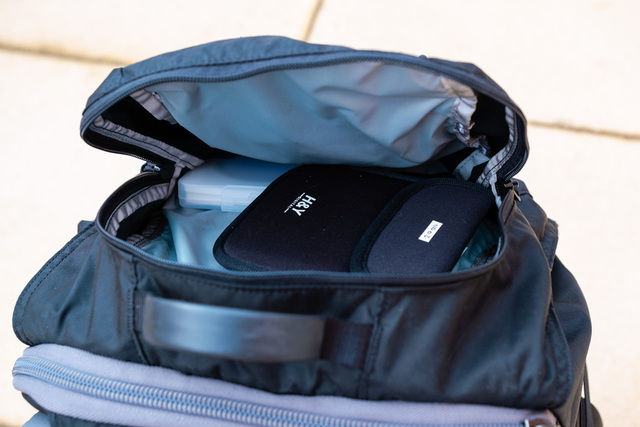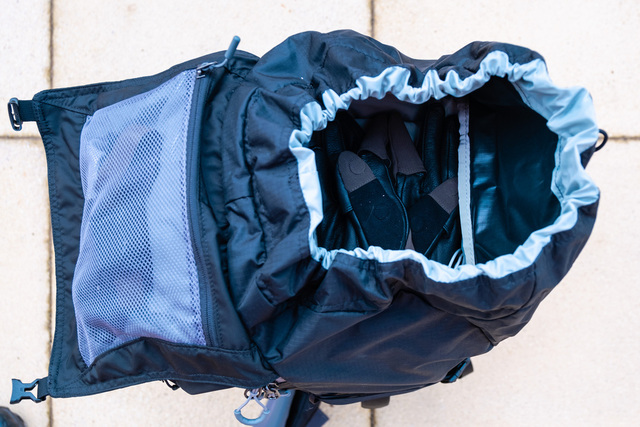 You can fit a 15" laptop in a dedicated compartment on the front of the bag, where there are plenty of other little pockets and pouches too. Sadly I haven't found any of the pockets to be particularly well-suited to battery and memory card storage for quick access (something the Peak Design EDB is great for), but there are plenty of options.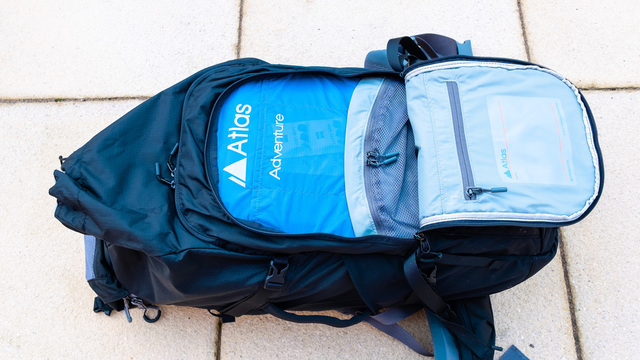 The waist belt is large and comfortable, and also includes large fold-out pouches that you can use to temporarily house lenses or other items on the move. 
There's also a built-in tethered rain cover! The number of high-end bags that make this an extra purchase always boggles my mind, but thankfully the Atlas is not one of them.
Comfort
As one of the main reasons I bought the Atlas Adventure, is it comfortable? Well, the jury's still a little out on this one sadly.
When properly set up, the Adventure absolutely does a good job distributing the weight of all your gear, and with the camera core sitting low and closest to your bag, doesn't get too top-heavy and pull away from you.
That requires finding a sweet spot with all the straps and harnesses though, and I've found it really difficult to get right. I'm definitely new to setting up a proper harness system on a bag and may be getting things wrong, but having watched a few Youtube videos have still struggled. 
My biggest comfort issue has been the way the straps sit around my neck: I found they really cut across and dug into the sides of my neck at the back early on and for a while I thought I'd just have to return the bag. After a lot of trial-and-error, I got it mostly sorted out but I couldn't tell you how or why they're more comfortable now and they still dig in now and then—I assume depending on posture changes through the day.
For a bag billed on its 'over-built harness system', this has been a disappointment but I also haven't had—or made—the time to get in touch with Atlas to work the problem through, so I can't say it's a universal problem with the bag. 
Space and layout
Camera carry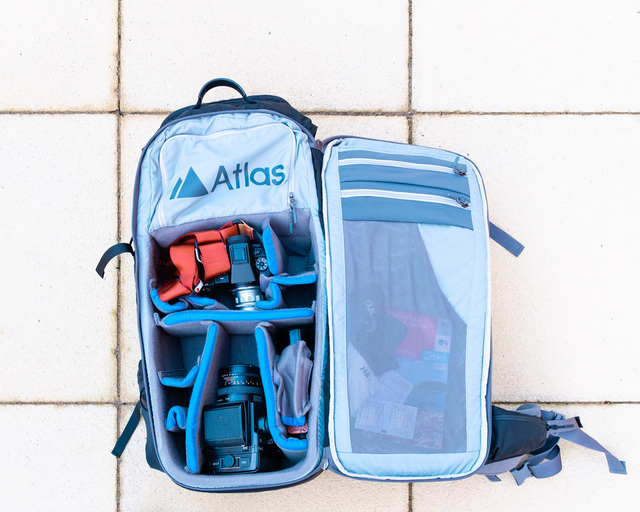 With the Origami divider pushed in for maximum camera carry, the core divider section is probably comparable to the Lowepro Flipside 500AW, which while initially a little disappointing is actually quite a lot of space (remembering that there's still a load of other storage too).
The dividers themselves are fine and allow the usual customisation of bag layout. I've had a whole medium format system packed in: two bodies (Fuji GFX 50S and 50R), 4 big GF lenses and a few vintage lenses with adapters to mount on the GFX bodies.
The camera core is quite deep, so it's possible to stack some lenses on top of each other if you've got spare dividers to provide some protection between each lens.
Overall, no complaints about the camera carry part
Tripods
Tripod carry is also good. Straps and pockets on both sides allow a couple of tripods to be carried should you so choose. 
Non-camera gear
The other of my two main reasons for buying this bag (alongside comfort) was having more dedicated space for non-camera gear, or even camera-related gear that isn't a camera or lens like filters.
In this area, the Atlas Adventure is awesome.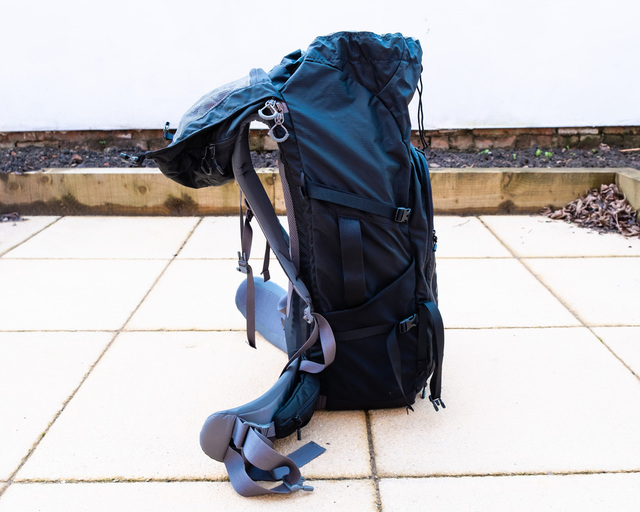 Even with the Origami pushed in for maximum camera carry, you're still left with plenty of other space above and behind the camera core. Being able to stuff less-regularly-used items down the back of the camera core is really nice, though you do have to watch for smaller items sliding down and even disappearing under the bottom of the camera core.
There are pockets galore; actually, so many I have trouble remembering which pocket houses which item.
The laptop sleeve/compartment would happily fit both a 15" Macbook Pro as well as an iPad Pro for travel, though I wouldn't be keen on adding that weight while hiking unless I had to.
Pros, cons & alternatives
Pros
Size: the bag is huge, with pockets galore and some very thoughtful touches. Plenty of space for camera gear as well as accessories, clothing, etc.
That extra space for non-camera items is fantastic
Weight distribution, once set up correctly, is good. The waist belt is nice and comfortable and does a good job of taking load away from your shoulders if you can get the shoulder straps/harness right
Built-in rain cover
Large rear access panel that gets the straps out of the way
Stands upright on its base very well, with varying loads, when you just need to put it down for a moment
Cons
Given how much bigger the Adventure is overall, I'm not sure the camera core actually carries any more than the smaller Lowepro Flipside 500AW II (but that's all the 500AW can carry)
Harness system has been really difficult to set up correctly. Without more experience, I can't tell if it's me not doing it right or a design flaw of the pack. Certainly not idiot-proof setup
Expensive, but it's a high-end bag and I wouldn't say overpriced
Alternatives
Would I get a different bag given my chance again? I'm not sure.
The recent Kickstarter campaign for the Shimoda X line was sorely tempting. Shimoda is a bigger company with more budget for showing the products off in their best light and getting copies out to plenty of influential photographers, where Atlas largely relies just on customer reviews it seems, so one has to be careful to see past the marketing disparities.
The Shimoda bags do look great and the specific comments from Nick Page that the harness system is more comfortable than the Atlas might push me that way given my time again.
There are areas of the Atlas Adventure that I don't think the Shimoda X70 covers though, or that don't look as good. The Shimodas don't have any access to the non-camera area when the bag is face-down with the camera panel open, while the Atlas has a nice zip-round panel to grab stuff from the general compartment at the same time as cameras and lenses. 
Giving the Atlas the benefit of the doubt as it hasn't actually failed me in any way out in the field, I'd stick with it.
Conclusion
The Atlas Adventure is a very good large hiking/trekking camera bag.
I have to shy away from a ringing endorsement because of my uncertainty around the harness system and not having enough opportunities recently to fully test it, however the long days I  have managed out with the bag have been absolutely fine. The top straps have needed occasional tightening to pull the bag back in to my back, but overall it's carried a lot of heavy gear comfortably.
The Atlas Adventure is a great backpack if you've got a lot of stuff to carry and I'd certainly recommend trying it. The smaller Athlete has the same basic features in a smaller form factor and I'm sure would also be great for lighter carry.
Update, June 2022: Long-term use
Since writing this review, I've had a few people email with extra questions, particularly about how the Atlas Adventure has worked out long-term.
Here's the reply I've generally given:
"I did worry about appearing over-negative on the straps with the Atlas Adventure and in hindsight I probably was.


In longer-term use, while it can be a bit awkward to get the straps just right, once I start walking and adjust a little as I go, it hasn't really caused me any problems. For reference, I'm 6'3 and a 16" collar if that helps.

It's the only bag I've owned with a proper harness system, so it's entirely possible it's user error on my part and the system just isn't intuitive enough to easily get right without guidance.

That said, I've been out on long days with it, with a  lot of gear (e.g. two Fuji GFX bodies, 4 GF lenses and a few vintage lenses for adapting, tripod, water, food, Mavic 2 Pro with extra batteries and bag, filter pouch and more) and it's distributed the load about as well as I could ask. Any issues are generally me just carrying more than is sensible.

So I'm pretty positive on the bag. I  do think they could have made the straps softer over the shoulders (the Shimoda straps look way better) but I prefer almost all other features of the Adventure over the Shimodas.

With Atlas being delivery-from-manufacturer only, it's obviously a leap of faith ordering one but I believe they're pretty responsive with customers.

Anyway, hope the above helps. Beside the usual twitchiness to buy new things, I don't have any actual reasons to replace the Adventure - it's a great bag. I have a Lowepro 500 AW II for the simpler outings but any decent amount of time out and I take the Atlas as it actually holds more than just camera gear!


So, overall, I still really like the Atlas. I haven't been able to try a Shimoda in person but their straps do look way better.

As mentioned above though, I prefer most of the other decisions Atlas has made in the design of the Adventure over the way Shimoda approaches their bags (again, without having tried them) so dropping another £450+ to try the Action X70, which I think would be the equivalent bag, hasn't appealed enough yet ."