Photography
Review: Fuji X-T2 first thoughts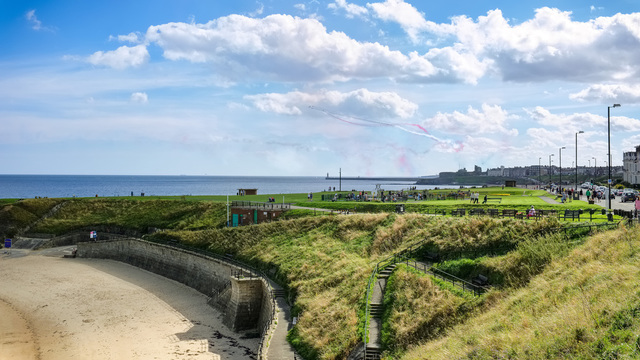 Having sent my Fuji X-T1 in for part-exchange with the guys at Wex Photographic a few weeks ago, I've been anxiously awaiting the arrival of its replacement: the Fujifilm X-T2.
After Wex could only promise me delivery by lunchtime on release day I was delighted when it turned up at 8.20am, 30 minutes before we had to leave for 5 days up north visiting my family. So rather than a long weekend of pining after an unopened box at home, I was able to manically throw it in my bag and have been playing with the camera over a few days on the north east coast of England.
There have been some great reviews of pre-release copies of the camera (e.g. Rico Pfirstinger's review at Fuji Rumors which I'd recommend reading) and it's way too early for me to go that detailed so below are my early thoughts on using it, particularly in comparison to earlier Fuji cameras.
I took around 1,400 photos over the first weekend (over 700 testing the high burst rate on a surprise Red Arrows display that happened over the house) and a hundred or two more since. I haven't added any to this article for now as it was holding me back from posting, but I'll add some here or in another post soon.
Build
The X-T2 is just as solid if not more so than the X-T1. There are no worries to be had on the build quality side that I've seen so far.
The chunkier dials for shutter speed and ISO with push-button locks are a big improvement: easier to turn and the on/off locking mechanism means no more finger yoga trying to depress a top button at the same time as turning.
The screw thread on the shutter release button allows for soft release buttons to be added. I think I'll add one to my copy to bring the release into more comfortable range of my index finger (see below on handling).
The new, larger eye cup is a definite improvement though I was still happy that the same extended eye cup (EC-XT L) I bought for the X-T1 also fits the X-T2 as it provides a better hood for those of us wearing glasses.
As mentioned in just about every review, the focus point joystick is excellent. I was surprised by the feel - it's not a clicky 8-point stick but feels more like the kind of analogue stick you get on an Xbox controller. It functions effectively as an 8-point stick while feeling more natural and encourages more regular changes of the focus point rather than focus-and-reframe techniques.
The switches (focus mode on the front and drive mode/metering collar switches on top) start very stiff. Particularly the two collar switches on the top plate I've found quite awkward to change early on. Hopefully they'll ease up a little over time.
With the vertical battery grip attached, it forces my (admittedly long, spindly) hand up the grip so that my index finger doesn't naturally sit on the shutter button. It hasn't been a huge issue so far and adding a soft release button will probably bridge the gap but it was noticeable.
Again with the battery grip, the X-T2 feels a noticeably heavier camera. The extra battery and whatever else is going on in that grip has made my bag feel weightier. According to Amazon, the X-T2 grip is 485g compared to 159g for the X-T1—a huge difference and not one I was expecting.
Software & user interface
In playback, pressing up on the D-pad or joystick cycles through standard and info views of a photo. This helps with a common issue I have when reviewing on camera: wanting to both see a larger view of a photograph I've taken as well as quickly check the histogram for exposure. Now with a single button I can jump between the two! It's little details like this that add up to a hugely improved experience with the X-T2.
Cycling through the view modes is way slower than the X-T1. It seems to catch on the move to EVF-only as there's a delay with the EVF turning on and it won't register another 'view mode' click until the screen has turned on. On the X-T1 I knew I could just rapidly press view mode x number of times to jump to the mode I wanted. Hopefully this will just get fixed in a future firmware update.
Having traded in the X-T1, I can't double check whether this has always been the case, but in manual focus mode the EVF doesn't rotate the UI like it does in auto-focus. This feels weird and like a bug. Again, hopefully to be fixed in a firmware update.
A really nice touch I was looking forward to with the X-T2 was battery percentage display in numbers. The feature is in there, but it very oddly only appears in playback mode when reviewing images. I most want to know detailed battery status while shooting, not reviewing and with your eye to the viewfinder it's not that quick to activate playback mode to check (particularly if your default view mode for playback is full-screen with no overlay).
This one's a biggie! After pressing the shutter release to take a photo, if you keep it half-pressed then it'll keep your focus and exposure locked to be able to take further photos. When I first switched from Canon, it was really annoying that the Fujis didn't do this so it's nice to see it added.
The EVF refresh rate is excellent, both for the lack of lag jiggling the camera around and for blackout time when shooting in burst mode. With the unexpected Red Arrows display, I shot some bursts at both 5fps and 11fps with the battery grip in boost mode. I was able to easily track the planes as they shot across the sky while shooting bursts.