Gear
First impressions: Lowepro PhotoSport Outdoor Backpack BP 24L AW III
Early thoughts on a lightweight photography hiking backpack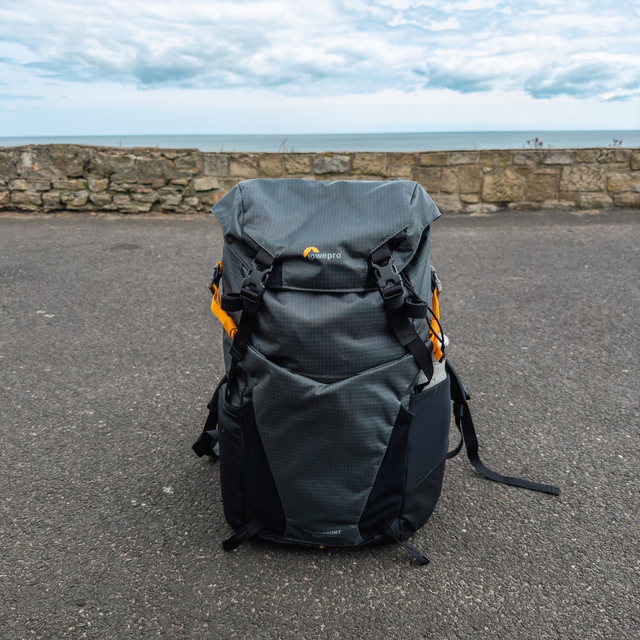 Lowepro recently asked if I'd be interested in reviewing one of their PhotoSport lightweight camera backpacks. Always keen to find an improvement on my camera carry, I decided to say yes.
When Lowepro first got in touch, I was preparing for a weekend trip to the Peak District which seemed like a great opportunity to try a new camera backpack, especially a smaller one—when given the opportunity I usually (over)load my 70 litre Atlas Adventure—but this was a weekend to catch up with friends while seeing some lovely scenery.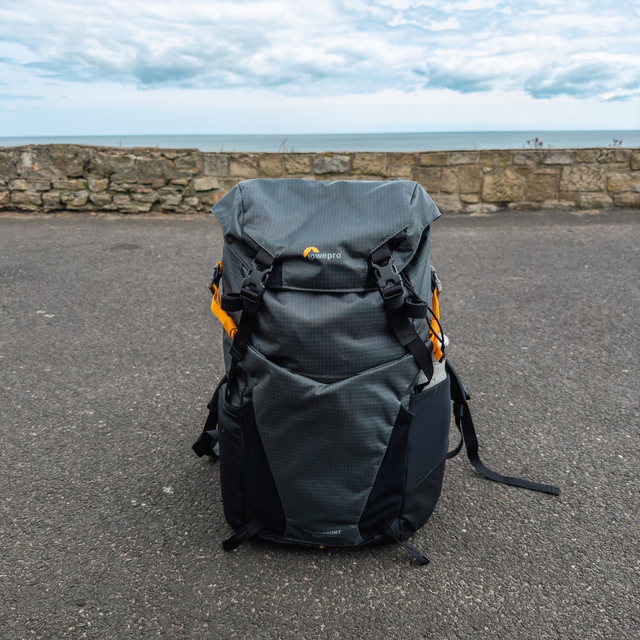 Perfect for a lightweight daypack!
Alas, the bag just missed me, arriving only a few hours after I had to leave and so the old Peak Design Everyday Backpack went to the Peaks and I've been trying to find more opportunities to test the PhotoSport out since.
I certainly haven't had chance to give the bag a proper workout yet, so for now these are just my first impressions. Once I've been able to thoroughly test the bag out I'll write a full review.
First impressions
I needn't have worried too much about the PhotoSport feeling too small: it's made for a different purpose than bigger packs and although I've only managed a series of very short outings so far, the PhotoSport has largely been a pleasant surprise: not least in what a difference a light backpack makes! It's a great grab-and-go day pack.
Again with all the caveats that these are only first impressions, I've really enjoyed the PhotoSport BP 24L AW III so far.
In the spirit of first impressions, I'll mostly list bullet points below and then just expand on a couple of areas for now. 
The pros
There are plenty of pros so far for the PhotoSport:
Super light: the PhotoSport is 1.5kg empty (including the camera insert) and it feels lighter than that once you're wearing it. Again, I'm coming from my lightest bag being the 30L Peak Design Everyday Backpack but in contrast to that, the Lowepro feels like you're barely carrying anything until you fill out the camera insert.
75% of the fabrics are recycled material, which is nice to see. There's a tab on the back side that has a software-inspired progress bar to show that 75% visually, which is a bit gimmicky but at least also acts as a visible commitment to monitoring these things on Lowepro's part.
The camera insert is a reasonable size. The only one of my Fuji bodies that won't fit with a lens is the GFX 50S, where the viewfinder adds too much depth. The GFX 50R sits snug, while the various X series bodies are all absolutely fine. Lowepro's spec only suggests mirrorless cameras like the Sony a7 and so on, implying not the bigger stuff so it's a bonus to me that the 50R fits at all. Boxy rangefinder win!
A 'pull-pull system' for the top drawstring makes opening and closing really quick and easy: pull orange tabs to open, hold orange tab and pull the black drawstring to tighten. Very smooth.
Built-in rain cover at the bottom, just like my Lowepro Flipside 400 and 500 bags. Some bags have the rain cover as a separate piece but I like that Lowepro integrates them so the cover is always connected and therefore never missing when you need it.
Zipper pocket in lid is a nice size and the zip is smooth.
Couple of stretch pockets inside, good for notebook, lens wipes, etc. (I've been carrying a small Moleskine with me for writing notes about the pack as I come across points of interest)
Like the Atlas, the Lowepro has an inner pocket that allows you to slide some (thin) items down the front of the camera insert—handy for smaller, less-frequently-used items. On the Atlas I have a small fold-out waterproof mat that's handy when you need to sit down on wet ground stashed in this area, so I might try it here too.
A 'slip pocket' on the front of the bag—good for stashing a jacket/fleece as you layer up and down on a hike, or for anything that gets dirty that you don't want stored in the main interior.
The ActiveZone padding for your back works pretty well to keep things comfortable.
The main pro of this bag is of course its light weight. On a recent lunchtime quick-hike out to a local lighthouse I got a call that my son had hurt himself (all fine) and I was still a 25 minute walk away from getting back home. I did briefly contemplate running home and it was only my fitness levels that put me off: I had no doubt I could have tightened up the straps on the PhotoSport and had it stay stable enough for a short run.
The cons
I have noticed a few issues so far, though nothing too drastic.
Trouble finding good fit given my height. I'm 6'3" (~1.9m) tall and the waist strap wants to sit way too high unless I loosen the shoulder straps quite a lot, sitting the backpack low on my back. This might be fine but I need to test properly.
Camera insert side access means you can't get to lenses deeper in without removing the whole insert, which is a faff and really annoyed me initially. As I've used the pack a few times, it hasn't actually been too bad as long as I put the lens I'm least likely to need towards the back, but then I might as well not add that lens. It's easy enough to temporarily pull one divider aside to get at the next layer, but two layers in is too much.
Peak Design made a big deal about 'slop' in the straps on their Everyday bags when they first launched them, and while their bags don't fully eliminate it, all the various dangling straps on the Lowepro do become quite noticeable.
A tiny thing I've just noticed, but the lid pocket zipper tends to leave a bit of a gap when closed unless you really make sure. In theory for any rain heavy enough to cause trouble there, I would have the rain cover over the top but it also feels like one that might catch me out one day. Probably not…
The main issue I've found so far is the height problem. I'm not sure whether it's still better to get the waist belt sitting properly on my hips (usual advice) and possibly have it be a bit awkward around the shoulders, or have the shoulder straps more where I'd expect them and deal with the weight focusing there given it's only a light pack.
I just need to try some things out here. My worry is that the amount I'd need to loosen the shoulder straps to get the waist belt low enough onto my hips would leave the top of the pack flapping around a bit behind me. That might totally not be a problem though, so I'll try it and report back in the longer-term review.
To investigate
Not having had a huge amount of time with the Lowepro PhotoSport 24L yet, there are a few features I still need to investigate:
The bag comes with a selection of accessory straps, stored inside a stretch pouch on another strap. One example use is to attach your camera to hang from the front of the shoulder straps which is a nice idea, though I'd want to do it with Peak Design anchor loops rather than the big clips Lowepro provide.
The pouch-on-strap thing can also be attached down the length of one shoulder strap and used as a mobile phone pouch. This does look handy.
The camera insert can sit on the waist strap of the backpack - a nice idea for quick access while hiking. You can then fold down the inner divider from the top compartment to open up the whole interior of the pack for other things. The removable insert and ability to use the whole interior space also gives plus points as a parent of young kids, so it could act as a light day bag for family outings too.
Attach a Peak Design Capture Clip - I've stopped using mine so much with the big GFX gear but this pack (and my recent purchase of the new Fujifilm X-T5) has encouraged me to use my smaller X series gear more, which is light enough to be comfortable on a PD Capture Clip. I need to investigate if any of the mounting points on the shoulder straps are strong enough, or if it needs to go around the whole strap, like it does on the Flipsides.
Hydration reservoir compartment. The PhotoSport can hold a 3 litre hydration reservoir and while it doesn't come with one, I did decide to pick up a 3L OEX reservoir to try out on a hike.
In summary (so far)
I'm avoiding making any final conclusions yet, but so far I've been impressed with the Lowepro PhotoSport BP 24L AW III (except for that long name!). It's definitely lightweight, has a nice mix of photo and general storage and a good bit of versatility for the days when you don't want the camera gear with you (do those really happen?).
I've got a good hike planned in a couple of weeks' time, as well as a family holiday during the summer, so I'm hoping to give the PhotoSport more of a run for its money over the next couple of months before writing up a full review.