Photography
My top 4 photographs of 2021
Yes, this is over a year late...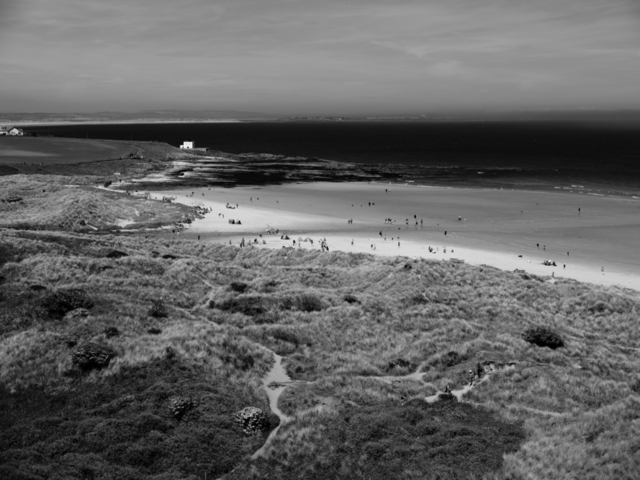 Well, this is late…
At the end of 2019 and 2020 (or at least the start of their following years), I picked up on a small trend on photography Twitter to share 4 favourite images from the year and turned it into longer articles here on the site.
2022 and the start of 2023 have seen a relative nosedive in my photographic output and along the way I just never built the interest in writing a top-4 for 2021, let alone '22. I feel I might be slowly emerging from that lull though, so thought I would go back and look at my favourite images from those two years in retrospect.
So: over a year late, here are my four favourite photographs (that I took) in 2021. Not necessarily the best, but my personal favourites…
St. Mary's Lighthouse from the air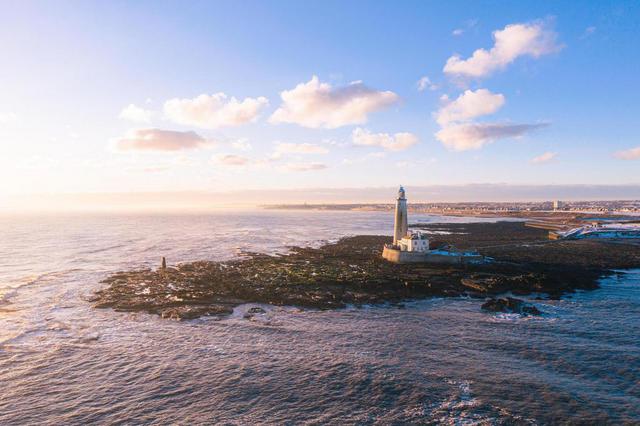 A nice early success, though one not to be repeated. With some rare snow settling at the coast and a day off, I rushed over to St. Mary's Island in the morning and got quite a few images I really enjoy.
I flew my drone to get some images like this one though even at the time realised it perhaps wasn't the best idea. All was quiet but as a few birds began circling, I brought the drone down pretty quickly.
While technically allowed at the time (I always check for flight restrictions), there's a lot of wildlife around the island including sea birds and seals, and there is now a sign up asking people not to fly. I've learned my lesson and won't be flying here again.
The images themselves were good though, and this one stands out as a favourite for the year as well as a reminder to think a bit more carefully about unintended impact on the surrounding environment and wildlife while we're taking pictures.
Cullercoats churn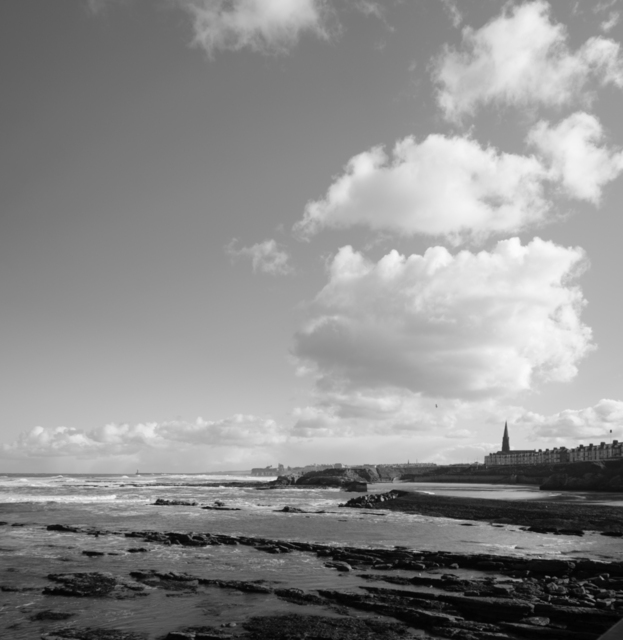 A couple of months later, in early April, I had 15 minutes to spare for a quick walk around the coastline at Cullercoats while the sea was a little frothy and the tide was low, revealing a lot of the rock formations that jut out here.
With the little Contax G-mount Zeiss 28mm f2.8 lens on my Fuji X-Pro3, I got a handful of images I really like in that short space of time. This wider panoramic stitch is my favourite of the bunch, especially if you can look at it big to see the details. It might be one I need to get printed some time.
A walk in the woods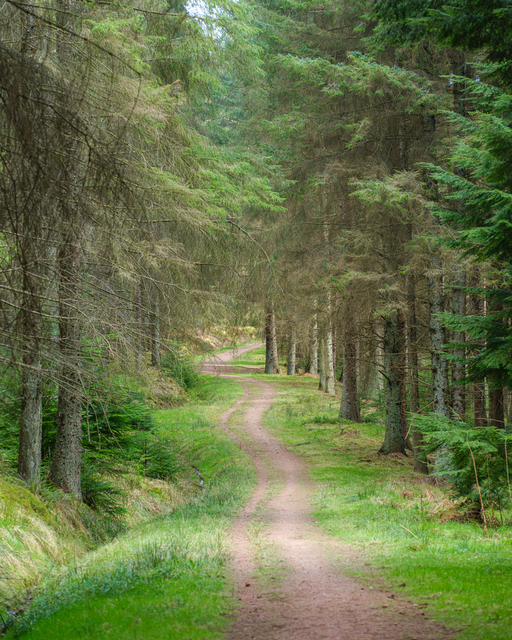 Also in April, I made a return to Thrunton Wood having briefly scouted it the October before. I picked up a number of promising locations throughout the woods that I still need to go back to some day but some of my favourite images from that day were oddly shots like this, showing the meandering paths winding their way through the trees.
This composition was the best of the bunch and, as I mentioned when first sharing this photograph, it's one where I managed to restrain my high-contrast tendencies to maintain the calm low-contrast feel of that Spring day.
"Another thing I like about this image is its relatively low contrast (certainly for me). While I absolutely love a good restrained, low-contrast landscape image, my own natural tendency is for higher contrast and I struggle to stop myself introducing too much punch to low-contrast images in Lightroom."
Bamburgh beach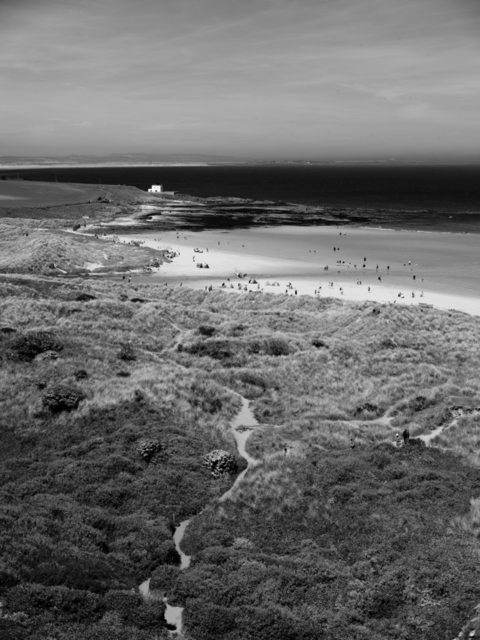 Bamburgh was recently voted the UK's best seaside resort for the third year in a row, which is both no surprise given its stunning beach and equally stunning castle, while also being a bit of a surprise given how tiny Bamburgh village itself is.
This image was taken on a weekend family visit in June; a beautifully sunny day that got more interesting as we hit Druridge Bay on our way up the coast and found an enormous fret rolling in from the sea, shrouding the coastline in cool mist.
Up at Bamburgh, the fret was sitting just off the coast and so looking down over the beach was nice and clear, while the sea blurred into white nothingness. This view, from up on the castle ramparts looking north, worked so well in sharp black and white—picking out the detailed texture of the dunes hunched up against the smooth white sands of the beach.
I go back and forth between this portrait frame and a landscape-oriented frame of the same basic scene, but in choosing a favourite here I went with the portrait image as I feel it leads the eye through the scene better. Here's the other though, for comparison: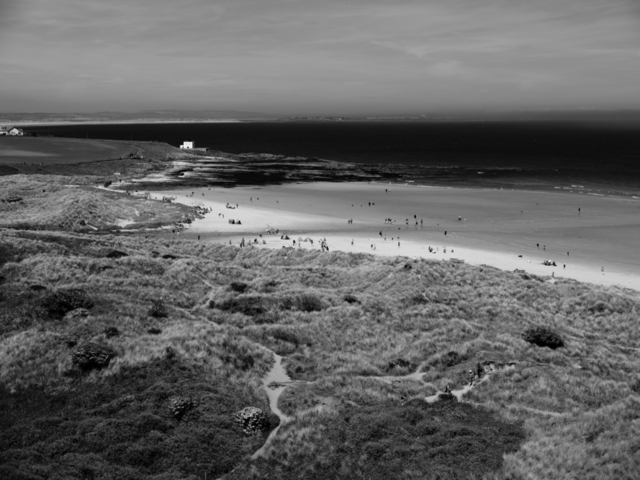 A good year?
Looking back now, I'm surprised that all four of my favourite images of 2021 were taken in the first half of the year.
There are a few photos from the second half of the year that I really like but which just missed a detail or two that annoy me enough no to list here. I had a lovely walk around Newcastle for some street photography in the August of 2021—something I truly miss from my years in London—and got some great shots, though the one that would be among the year's favourites is a pano stitch where I just missed getting enough for the bottom of the frame to truly make the composition sing.
One to try again.
2021 was overall a pretty good year for me photographically. Not a great year, not a bad year, but pretty good.
On to 2022…
Seeing that I'm writing this review of 2021 in May 2023, 2022 has obviously already been and gone so I won't bother making predictions or registering goals for the year ahead. 
I'll get to rounding up my top 4 from 2022 in time, but (spoiler alert) it was a tough year photographically. I had way less time out with the cameras and have also made less time so far going back through the relatively smaller number of images taken to actually process them. 
A third of the way through 2023 and I'm doing worse again still so far—by the numbers—but feel I'm slowly coming out of whatever funk has been damping my enthusiasm and creativity for a while now.