Photography
A walk in the woods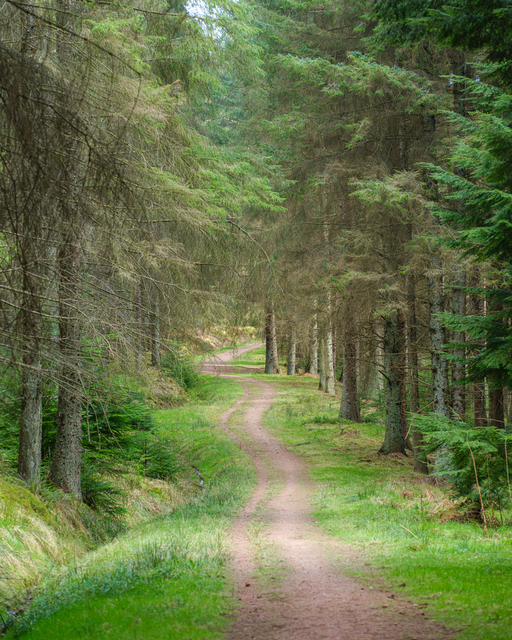 Back in October on a long day's photography in Northumberland I made a very short stop at Thrunton Wood, initially intending to explore before deciding I was too tired for another hike and heading out to the coast instead. This April I finally went back for a dedicated trip and found a lovely woodland, full of interest and plenty to explore.
Thrunton Wood is a large managed woodland north of Rothbury in Northumberland. There are some large, easy-to-follow tracks and plenty of smaller paths and tracks that meander off into the forest.
I began by following the first of those smaller paths I found, looking to explore the woodland for compositions, although it relatively quickly joined up with another of the major tracks and so I followed that up deeper into the wood for a while.
After a while I ducked into a small, close path that followed a broken dry stone wall and spent quite a while in one small area just off the main track as the light revealed interesting scenes among the complexity of the broken wall, dense trees behind and carpet of dried pine needles underfoot.
I'd agreed to meet a good friend in the early afternoon back at the coast, so began making my way on a loop back to the car, coming out onto more of the lovely open tracks and taking a series of hand-held images with the Fuji GFX 50S and GF100-200mm lens, including this portrait image looking down the path as it jinks left and right between the trees.
I took a number of landscape-oriented shots at other points on the walk which are also lovely, but I think the portrait shot gives a better sense of that tunnel vision down a long path, along with the telephoto focal length.
Another thing I like about this image is its relatively low contrast (certainly for me). While I absolutely love a good restrained, low-contrast landscape image, my own natural tendency is for higher contrast and I struggle to stop myself introducing too much punch to low-contrast images in Lightroom.
It's pleasing then when I manage to take an image that just works well for me at lower contrast—without an urge to drop those shadows down or nudge the highlights up any further.