With the slow rate at which I tend to get round to processing my photographs I'm quite often sharing images here that are already a year or more old, so I thought I would share a couple of images from a recent scouting trip up the coast from my house.
I first visited Druridge Bay in July 2006 when my dad took my brothers and me there one sunny day. The location stuck in my memory and I'd been back a few times since, including 11 years later on a photo shoot for Funding Circle. Since moving back to the North East after 13 years in London, it's been high on my list to revisit and begin photographing so when I got a few spare hours in September I set off on a short scouting jaunt up the coast.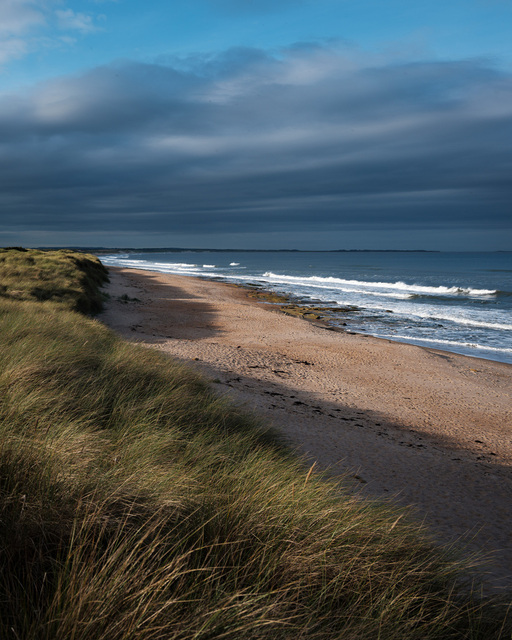 I began just north of St Mary's Lighthouse, checking out a couple of beaches and a cliff-top walk, then skipped the short distance up to Seaton Sluice which I've also wanted to spend a bit of time at for ages. I logged a couple of interesting compositions to go back to another day and carried on up the coast.
Just before Druridge Bay, I happened across a really interesting little cove that I want to return to as well. I only stopped because I saw a guy with a big telephoto lens parked up and thought I'd see what he was looking at. He was just packing up, but I later heard there'd been dolphins in the area. Regardless, it was a nice bit of serendipity that led me to the afore-mentioned cove next to a lovely little beach and I'll be back at some point to try and do justice to it. 
I love these little surprise finds when you're en route elsewhere, but en route to Druridge Bay I was, and with only about half an hour left before I needed to turn round and head home, I set off into the dunes to quickly re-acquaint myself with the area. The day had been very mixed weather-wise, which actually meant I had an interesting mix of moody dark clouds and patches of warm near-magic hour light to play with. I took a few handheld shots with the GFX 50R and GF 32-64mm lens as I went. 
As I was quickly making my way back to the car, I dropped the camera low by my knees and fired a few shots through the grass as I walked. I've found over the years that every now and then, these true run-and-gun shots can capture a moment so much better than if I'd stopped and framed up too carefully. It's obviously quite hit-and-miss, but when inspiration hits to give it a go, I tend to go with it and have had enough interesting images from the technique to keep trying.