Photography
Van Damme Beach light rays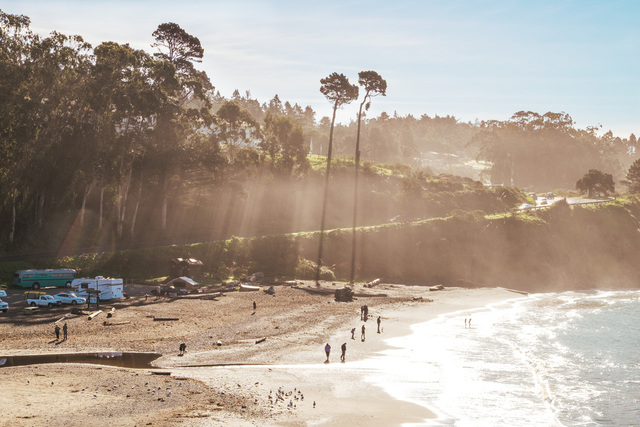 I've shared photos this view a couple of times before, but here's a closer in view focusing more on those amazing light rays and long shadows through the morning mist at Van Damme Beach in California, USA.
I took this photograph just over 4 years ago and I still love the vibe of it. I could do without the flare on the left-hand side above the camper van but it's taken me this long to notice so hopefully it doesn't matter too much. 
The two central trees casting those lovely long, narrow shadows through the fret are great. They line up so perfectly and with enough contrast in the shadow that at first glance it almost looks like they're just really tall trees somehow standing up from the beach. There's a nice z-pattern through the image with the hill line and road cutting back down to the left, although it doesn't quite join as nicely as it could with the pool of water on the beach running back to the ocean.
I got so lucky with the conditions on this day, as I mentioned in previous posts. I'd love to go back and re-shoot this area with a bit more time to explore and compose rather than being in a mild hurry to get to San Francisco airport. One day…