Photography
Taking flight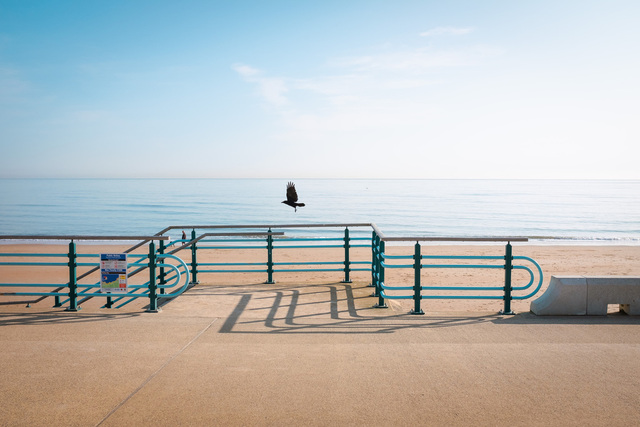 A crow lifts off from the railing at Whitley Bay prom.
Here's an image from just a few days ago, taken on a morning wander along the prom at Whitley Bay after dropping our eldest off at school.
We get quite a lot of crows along the links at Whitley Bay, and down on the railings along the prom when there aren't too many people around. 
For this image, I lucked out with some lovely conditions and some fortuitous timing: I was actually trying to get a photo of the crow sitting on the railing, but as it is here in early flight works so much better with the minimalist composition and geometric, parallel lines of the sea, sand and prom.
I tend to leave my Fuji X100F in the black and white ACROS film simulation when shooting, as it lets me focus more on composition and light without the potential distraction of colour while 'street' shooting, and while this image does look lovely in black and white I love the colour of this scene.
It's not that often you get a scene combining quite rich colour with minimalist composition but that's just what I got on this morning.