Photography
Steel Rigg stars and a Kielder failure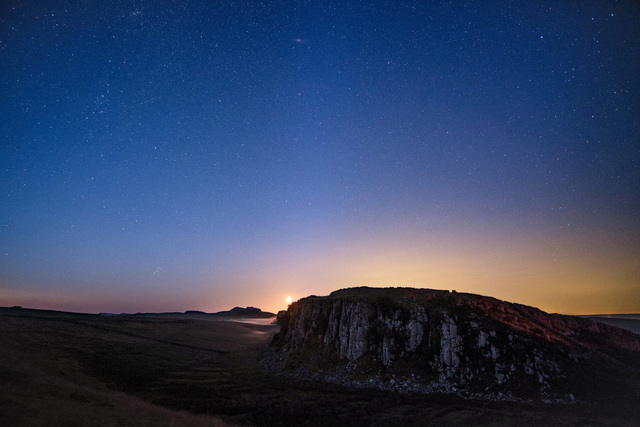 In July, Radek Bajenski and I headed up to Northumberland for a few days to shoot photography for the new Funding Circle brand. After a couple of days scouting—both on Google Maps and driving out into the national park and surrounding area—I came across a location with a fantastic name and that looked like it had great potential: Steel Rigg.
We ended up shooting a bunch of great photos up on Steel Rigg on the last day of the trip, but we were also there the night before, when I got today's photograph. One of the shots we were looking to get as a bonus shot involved trying to line up the Milky Way with a lake. The forecast looked good for the Monday evening, so we made sure our day's shooting allowed time to get out to Kielder Water ahead of sunset, shoot through magic hour and sunset, then find a good location for a starry night image and wait for it to get truly dark.
Best laid plans…
Most of the plan worked: we got some lovely photographs at a couple of locations around the lake. Some things, however, didn't go so well. 
I can't see
First, we stopped at a clearing in the forest with long grass and—after persevering through the clouds of midges to get some photos taken—ran back to the car only for me to realise my glasses had disappeared along the way (I'd taken them off while posing for the photographs). Searching for your glasses in long grass is demoralising enough, but doing it while being eaten alive by midges takes the biscuit. It felt more hopeless even that the other time I've lost my glasses: on the pebble beach at Hastings.
Thankfully, after a lot of searching, I did find them and could therefore drive again. 
Return of the killer midges
Things picked up after that, and we found our afore-mentioned couple of good locations to make the most of the golden hour light at Kielder. With the sun down, we drove down to the bottom end of the reservoir to check out the views for some star photography later that night. The midge attack earlier in the afternoon should have been a clue, but as we took the opportunity to get a few more shots down by the lake in the remaining twilight, we were attacked again. Trying to take some long exposures with me in the frame, I found a rhythm of setting the timer, posing and then walking 10-20 metres away for a while to escape the little biters, before returning to check the image on the back of the camera. We put up with them for a while but eventually gave up and escaped back inside the car to eat our dinner. 
As we waited the few hours for total darkness, we discussed the plans for the star shots, consulted SkyView for Milky Way position and came to some sad conclusions: one, that we needed to be on the other side of the lake where it's walking paths only (no cars); two, that would mean spending quite a lot of time with our small, bitey flying friends and three, that even if we could put up with all that, the stars literally were not going to align for us in the way we'd really need that night and it was now too dark to find a better position.
Steel Rigg
All of which is a very long-winded story leading to us deciding to give up on Kielder and drive the hour to Steel Rigg in the hopes that might work. 
Which it did! 
A mix of SkyView, Google Maps and The Photographer's Ephemeris apps had given us enough confidence to change locations and we eventually arrived in the dead of night. We could make out the still-impressive-looking sight of Steel Rigg after walking from the small car park so we found what seemed a good spot, set up our tripods and cameras, and took a first long exposure. 
There was definite potential there, so we worked the scene a bit (both new to any form of astrophotography) and in the end stayed for a couple of hours taking pictures. The weather was calm and relatively warm so there was no discomfort despite the late hour, and in the end we only stopped to head home as it was 2am and we had our main day's shooting starting later that morning with professional models. 
In the end, we didn't get the right shot for Funding Circle (that was always a bit of a moonshot on this excursion) but I'm really happy this photograph and a couple of others I took, especially being new to star photography.
Steel Rigg is an absolutely stunning location and seems a bit of a hidden gem. It's only a few miles along Hadrian's Wall from more famous spots like Housesteads Roman Fort and a couple of miles from Vindolanda but will be first on my list to revisit when I'm back in the area. The sunset we got the following day with the models was insane and I can't wait to go back and do some more landscape photography there.