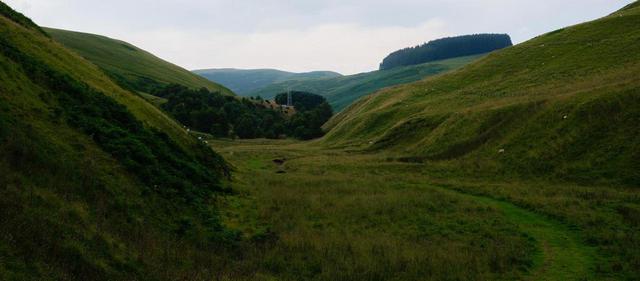 This is one of those images I sat on for an age: not quite sold on it but with a nagging, back-of-the-mind tugging of potential.
I've written before about how some images need time to settle in your library before you recapture or recognise what made you press the shutter button in the first place, and this is one of those images.
Taken around 18 months ago on a trip into the Otterburn range in Northumberland, I remember being disappointed in this image after importing it to Lightroom compared to the experience I'd had on the hike. I got as far as the panoramic crop, helping with the depth and scale of the image, but still wasn't happy.
At the same time, I was sure there was something there.
And so, it lived in my 'currently processing' collection in Lightroom for over a year, mildly taunting me when I noticed it again that I still hadn't made it work. Occasionally I would dip into the Develop module and try a different processing approach then give up again. 
Eventually though, whether by force of familiarity or simple distance from the event, I was able to see what I liked about the scene again: the winding trail through the valley floor, the carpet of grass laid over the whole landscape and the ripples and folds in the hills either side.
As with most images, it's not one of my best (not everything can be of course), but it's one I've come to appreciate and that acts as a reminder to get back out to Otterburn and particularly Barrow Burn when we're allowed to travel beyond our immediate locale again.