Photography
Upper Coquetdale in Autumn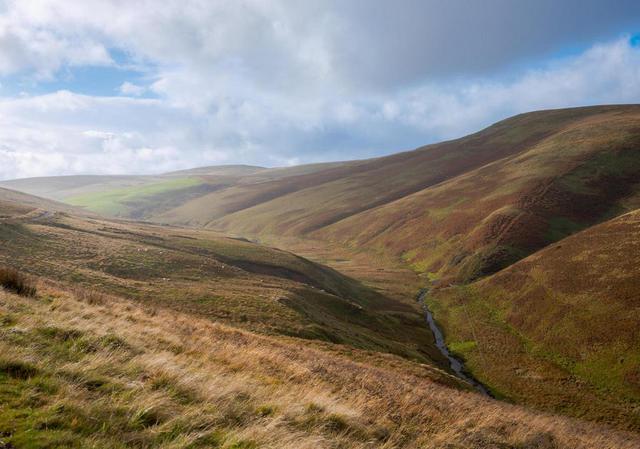 One of my favourite places to walk and photograph in Northumberland is up in the Otterburn range. 
The area is mostly a military firing range although the public is able to enter when there's no military activity and there are some lovely rolling hills and valleys to explore. I usually make a bit of a beeline for Barrow Burn, though there's much more I need to explore in the area too.
With no phone signal and very few people, it feels properly remote and each time I come back reminding myself I should really invest in a satellite messenger, just in case of mishap. 
Today's image is from a quite mixed day of photography back in October last year. I've had a large article in draft for months attempting to cover all I did that day but am now looking to split it up a bit and share smaller snippets. 
So, after an early start for sunrise at Simonside; discovering the woodland I wanted to photograph after that was closed for felling (I still haven't made it back to see what the 'damage' was photographically to one of my favourite places); pushing through a serious energy and morale dip to find another area of woodland and eventually slowing down enough to notice the beauty…
… after all that, I pushed on and decided to head into the Otterburn range.
Really I was way too tired by this point and although I stopped in a couple of spots for short walks to photograph scenes that caught my eye from the road, I'd lost interest. At the north end of the loop though, there are some lovely views down into valleys as the road sits high up the hills and coming around one corner I had to stop the car and make an image.
There wasn't an obvious place to properly pull over and—as mentioned—I was knackered so instead I just made sure it was safe to stop for a moment and took a few frames out the car window with the Fuji GFX 50R and 32-64mm lens.
The colours and textures of the hills up here are always interesting and at this point in autumn with the lovely mix of greens, yellows and russets creating a patchwork on the hillside I just love it.
I got two frames of interest here, each only slightly different: one showed a small sliver of the road in the foreground on the left, while this one I'm sharing has a slight bit more of the hill to the right. Both caught the corner of my wing mirror, which needed cropping out.
While not a big, dramatic mountainscape, I really love these rough, textured hills we get in Northumberland and this image reminds me of the beautiful drive to be had around the Otterburn range.