Inspired by a few people in the world of web design, I've decided to give the concept of 'week notes' a go: loose posts to summarise what I got up to in a given week.
I'm not even going to pretend for now that I'll actually manage this weekly, but we'll see…
Photography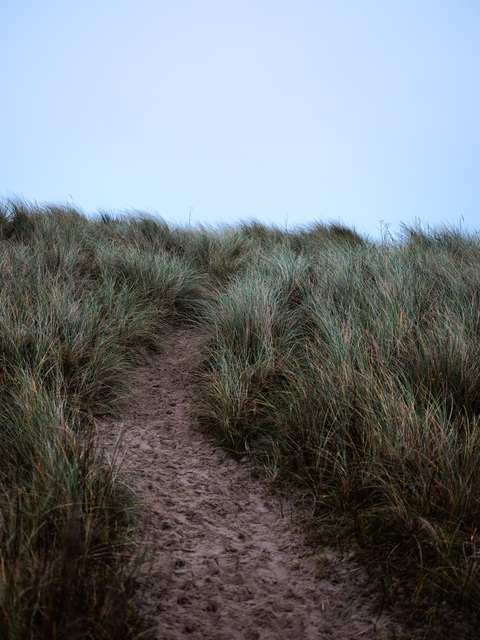 Photographically, the plan was for last week to involve an honest-to-goodness, proper, photography outing towards the end of the week. Unfortunately, our eldest got a virus and had to stay home so plans for a day out vanished. 
On the plus side, I had already managed an extremely brief visit up to Druridge Bay on Tuesday. I was getting our youngest out of the house for a couple of hours and attempting the old get-them-to-sleep-in-the-car trick, so dashed up the coast to Druridge Bay where the plan was for a quick walk-around—baby in sling—with the GFX 50R and if I was lucky with circumstance and time, maybe even pop out the Bronica S2 to finish off the final two frames on a roll of Fuji 400.
I was never going to have much time at Druridge, but that window collapsed even smaller as I ended up needing to get back for school pickup leaving me only 25 minutes actually walking with camera in hand.
Nonetheless I managed a few shots with the 50R to catch a bit of the moody weather, and I also finally walked the other side of the track to the Druridge Pools which I'd been meaning to check out for a while. Not great photographically unless you're there for birds, but now I know.
Photo tech
Not quite a last-week thing, but recent enough to include in this first post, I recently got the new Loupedeck CT on pre-order and after a pretty disastrous start (most buttons and dials just did nothing), Loupedeck support were very good at narrowing down solutions and responding quickly until I got it working. It seems having already had the software installed for my Loupedeck+, everything needed a bit of a kick to wake up.
Anyway, so far I'm really enjoying the Loupedeck CT as a nice upgrade on the Loupedeck+. It is a shame there aren't enough dials to cover all the basic Lightroom adjustments without swiping the screen to a second 'page' but over time I'll adjust the ordering and don't think it'll be too big an issue really.
Otherwise, it's a cool piece of kit that's actually aided my productivity. I also love that someone is finally bringing some of the promise of Art Lebedev's OLED-screen-key keyboard designs from 2007 to a useful, vaguely affordable product (though, let's be honest, the CT is also a pricey bit of kit).
SceneMapper
I still haven't written much about the iOS app I've been working on for the past year or so, but SceneMapper is coming along quite nicely now. It's an app for location scouting, and in particular logging the scenes you find and then helping you know when to go back to catch the right conditions (as defined by you).
The core app has been working for a month or two, but this week I got push notifications properly hooked up and it's been great to see those little notices on my phone letting me know a scene I've logged might have the conditions I want in the near future.
More on SceneMapper soon!
Real™ Work
Much as I'd love to work on SceneMapper and photography all the time, my trade is still the world of design and next week I start a new job, which exciting. Making the move from London back to the North East was always a little bit of a gamble work-wise given the disparity in options between the two areas but I'm delighted to have been offered a job at one of the top companies in the region and am really looking forward to it.