Photography
Sunrise at Druridge Bay with the DJI Mini 3 Pro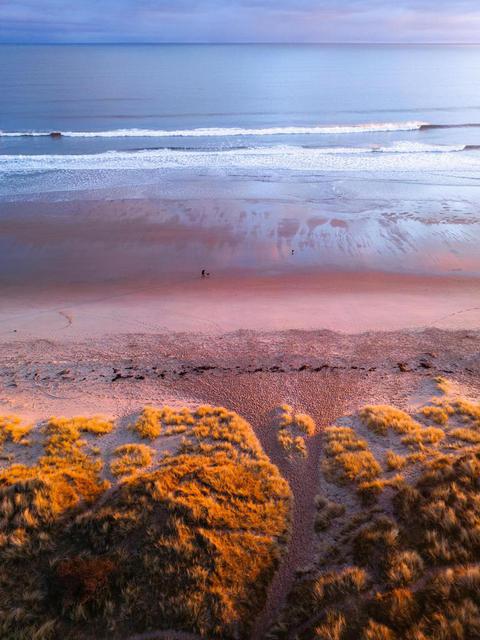 At the very start of January I managed two good photography days in a row, including finally getting to fly my new DJI Mini 3 Pro drone.
On New Year's Day, we made a family trip up to the stunningly beautiful Cragside – a National Trust property that's one of our favourite places to visit – and the following day I got out for a first proper solo photography outing in many months.
I decided to make the relatively short drive up to Druridge Bay for sunrise, so the late winter sunrise and not-overly-long journey time would mean I didn't have to get up too early for this first outing in a long time.
Arriving at the beach, a location I've visited many times and know reasonably well, I really began to feel how out of practice I was and so simply headed straight for the ridge line of the dunes and wandered along until I found a reasonable location to try some sunrise shots. Being on the east coast, the sun would rise over the sea to the south and hopefully light the dunes up quite nicely.
Once I had the Fuji GFX 50S and 100-200mm lens set up on a tripod with what I hoped was a reasonable composition looking down on the dunes as they met the beach – and with the GFX 50R on my shoulder with the wider 32-64mm – I decided to launch the Mini 3 Pro, thinking I would be more able to respond to the sunrise and find good compositions quickly compared to running up and down the dunes from a single level.
In the end, I got a good selection of images from both the drone and the Fujis. Nothing sensational, but some very pleasing photographs nonetheless. I so rarely photograph sunrise that I really need to work on planning my positioning more beforehand to make best use of the directional, super-warm light.
I'll share more photos from the day another time – there's even another variation of the composition above, taken a little further back from the sea that I also like, but this one won out for today.
The Mini 3 Pro did a solid job and I'm happy with my choice to swap the Mavic 2 Pro for it. Bringing back the rotating lens that the original Mavic Pro had is a huge plus for portrait-orientated frames, while the 48MP raw files are certainly handy. I found a few frames with shallower depth of field than I expected though, so the lack of aperture control may yet come to be a downside.
That tiny package, allowing it to easily fit in with my other gear though, means I'll take it with me so much more often. If I can make some time to get out this year that is!
To end though, here's an image of me bringing the Mini 3 Pro back in to land, squinting unappealingly into the rising sun I guess.