Last autumn I had a couple of delightful early-morning trips to Knole Deer Park in Kent. On this first visit I got fantastic foggy conditions and some of my favourite photos of 2018, most of which I haven't shared yet. Time to start changing that.
Living in London it's easy to assume opportunities for landscape photography are limited, and while we certainly don't have immediate access to some of the more impressive British landscapes it's still very possible to get out into some decent countryside if you try. As I'm based in South East London, Kent is the obvious target for any short photography trips and I've been driving down to Scotney Castle for years. A couple of years ago, I visited Knole Deer Park on a location scouting trip for Funding Circle with Radek and saw what great potential it has for photography while only being around 45 minutes from my home.
We didn't end up using Knole for the Funding Circle brand shoot (though we did use the grounds around Scotney Castle) and so I didn't go back to Knole until last October when I found a bit of motivation to attempt a sunrise shoot (I am not a morning person) combining with a promising forecast for fog at Knole.
I arrived at the deer park around 6.15am, just under an hour before sunrise. On my previous visit a year earlier, I'd noted 'the Gallops' as a promising area for sunrise as it's basically a long, low-slung mini valley of sorts with woods lining the hillsides. The forecast for fog certainly worked out, and there was thick, thick fog throughout the area which actually ended up scuppering any real sunrise to speak of but provided a long period of nice, atmospheric conditions.
I had a great morning working my way from the gallops, up and through a main section of woodland spotting the occasional deer. I'll share photos and write more that another time, but it's the scene that greeted me as I left the wood at the other end of the gallops at around 10am that I'm sharing today.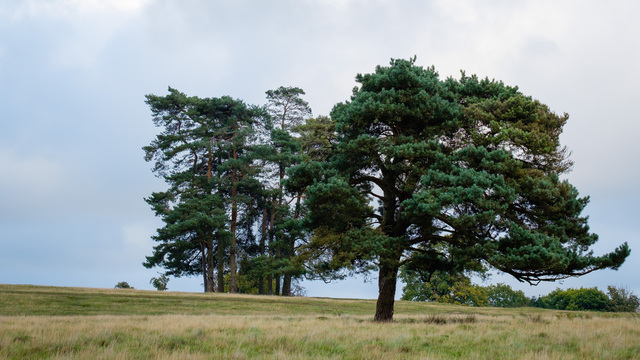 Between the walled gardens of the house and the woodland either side of the broad walk, there's an open grassy area of the park with the odd tree dotted around. I'd taken a quick, poorly-framed reference photo a year earlier (see above) as a reminder that the generous spacing between the trees here could make for some interesting compositions in the right conditions. 
With such dense fog, the original idea I'd had was never going to work but the lone tree was picked out beautifully in the fog and a couple of similar trees were just showing in the background.
Enter deer, stage right
As I was walking around to find the best angle to photograph the tree from, a deer wandered into the scene through the fog and so I quickly grabbed my camera and shot a sequence of images as the deer made its way toward and then past the tree 
I still had my camera set in bracketing mode from the previous scene I'd photographed but no time to adjust settings, so just kept firing. Thankfully I caught the deer just as it went under the outer branches of the tree with a 'normal' exposure and with the deers legs all nicely distinct and showing movement through the scene.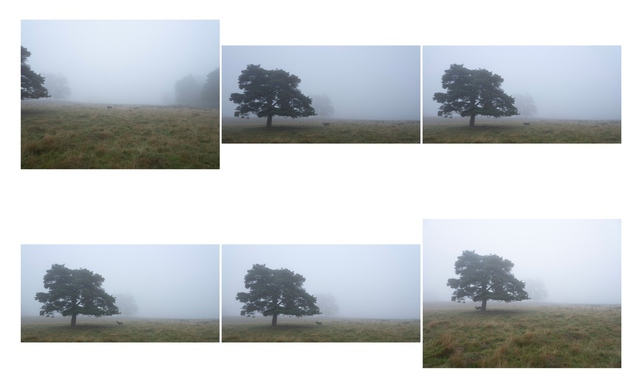 From the Lightroom screenshot above (just the correctly-exposed raw files), you can see I took a quick panic shot as I spotted the deer, then remembered to frame an actual scene and waited for the deer to walk where I wanted it; shot a short burst in that area and then a final chancer image as the deer emerged the other side of the tree trunk and realised that wasn't going to work.
Post-processing
What you'll also probably notice from the raw images above is that I've applied quite an opinionated colour treatment to the finished image. While at Knole on this morning I'd taken images in a range of lighting conditions, all within the heavy fog, and was keen to make sure I could get a consistent look and feel through the set when I came to post-processing. I'm also a strong believer in trying to convey the way a scene felt to me while I was there, over attempting to stick too rigidly to the way the camera captured colours and contrast. A raw file will always need some processing anyway to pull that raw data into a more representative image.
As it happened, I got home and the following day watched Nigel Danson's latest video where he spoke about getting out of a creative rut by focusing on a theme. He'd been shooting in similar woodland fog that week and introduced a clear green theme across his images that totally brought them together as a consistent set of photographs. Not only did the timing, theme and colour scheme line up nicely, but Nigel's clear delivery and enthusiasm gave me the inspiration to spend a bit more time on trying to deliver a consistent colour theme through the day's images.

As you can see from the Lightroom selection above—and, of course, the main photograph I'm sharing today—I'm focusing on a similar green theme (makes sense with forests!) to Nigel but with more of a cyan tint to the fog which has just felt right to me, both for the images as well as trying to replicate the conditions on the day.
I'm still working on finding the right balance across the full set of images however. Those at the start and end of the morning, with clear blocks of fog, fit together quite nicely while for those deep in the forest I'm still finding the right tonal balance, currently too green on some frames and missing the bluer hues in others.
The deer passing by in the fog I'm happy with; reinforced by using it as I started my own business at the start of the year. I was playing with business card designs and used this photograph as an early base image. It's ended up serving as the source for the core colour palette for my company's brand design. In the short term, this new company is because I've gone the freelance/consultancy route after nearly 7 years leading design and UX at Funding Circle. In the mid- to longer-term however, I've also been working on an app for photographers that I'm really excited to share hopefully in the next few months.