Photography
Dartford Crossing from above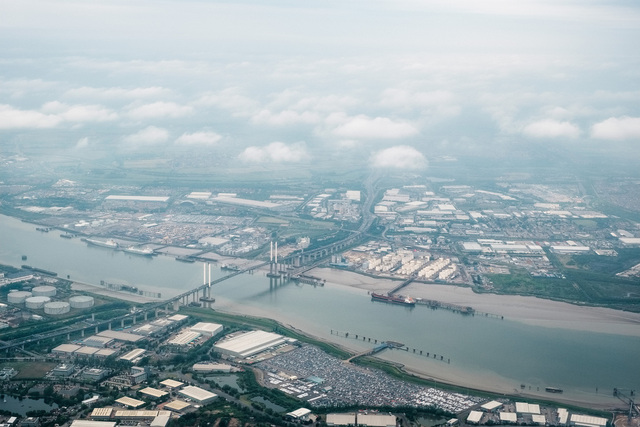 Browsing through my backlog of photos to publish this evening, I came across this image taken while coming in to land at City Airport in London a few years ago.
I was on my way home from a visit to the Funding Circle office in Berlin and, for once, had a camera to hand at my seat with a good view out the window. 
Conditions were an interesting mix of cloud and haze that can sometimes create that odd effect of being both low- and high-contrast at the same time. Details get smoothed out just enough to be interesting and there's a general low-contrast feel while at the same time there is still a good amount of light hitting certain spots to create areas of higher-contrast.
Everything's moving by pretty quickly at this altitude, so I remember firing off quite a few frames trying to capture anything that looked interesting, in hopes of having one or two good frames come out at the end of it. This one, looking down over the Dartford Crossing on the Far Eastern outskirts of London, worked pretty well.
I really like the tones in the image and the cloud bank covering the top third of the frame sits really nicely.
The bright roofs of some of the buildings at the bottom edge of the frame are a little distracting and, looking again now (I processed this image a long time ago) I might try to crop them out but for now I'm happy sharing as-is.
It looks like it'll be some time before I board a plane again, so it's a little odd for me looking back on images like this and remembering the amount of air travel I was doing for a few years. I cut down on work travel when our first child was born and don't miss the slog of it, though it was of course nice to get the opportunity to spend a weekend now and then exploring a new place.