Photography
The Lake District: Day One
7 days, only two chances for landscape photography and a lot of inspiration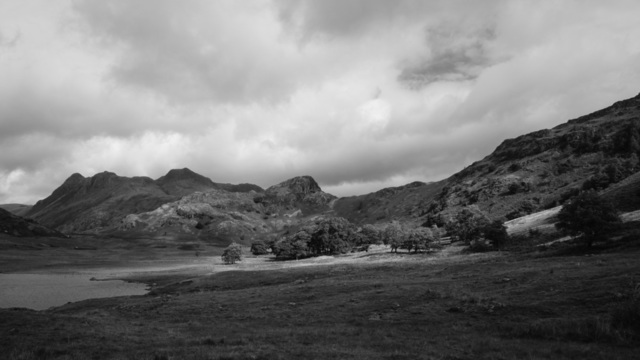 In a week-long family holiday I only managed to get out with my camera twice—once for a photography workshop and a quick evening recce—but it's such a stunning place I've still got a set of images I'd like to share.
As mentioned in my previous photograph of Blea Tarn, I'm recently returned from the Lake District. While I didn't have the time to really nail any of the shots I took, I still feel like I got a good couple of sets of images and plenty of inspiration for a return trip (or twenty: what a place!). The weather wasn't overly kind and I missed out on a sunrise for the workshop with Nigel Danson thanks to torrential overnight rain and total cloud cover early in the morning, but it also made for some interesting conditions.
Day 1: the workshop
As I mentioned last time, I went on a 1:1 workshop with the awesome Nigel Danson. He's a lovely guy and great photographer, with a really good Youtube channel if you're after a bit of landscape photography inspiration. 
Stickle Ghyll
Having never been to the Lake District before (ignoring a couple of family trips when I was too young to remember) I showed up at the appointed spot on the map to meet Nigel. With no sunrise available, Nigel drove us up to Stickle Ghyll to check out the waterfalls first. This was a nice intro to the day and despite carrying far too much in my backpack for the short-but-steep climb, we quickly found a couple of points of interest to try setting up shots.
The two images below were taken in pretty much the same place, just looking either up or down the waterfall. I'm not really used to making long exposures and certainly not of flowing water so it was good to get a bit of advice from the off on not just composition but even shutter speed. With so much rain the night before, the water was really flowing fast and the exposure time of 1/4s at f/16 I think gives a nice sense of the movement without getting too ghostly, which I'm not a fan of in long-exposures of water.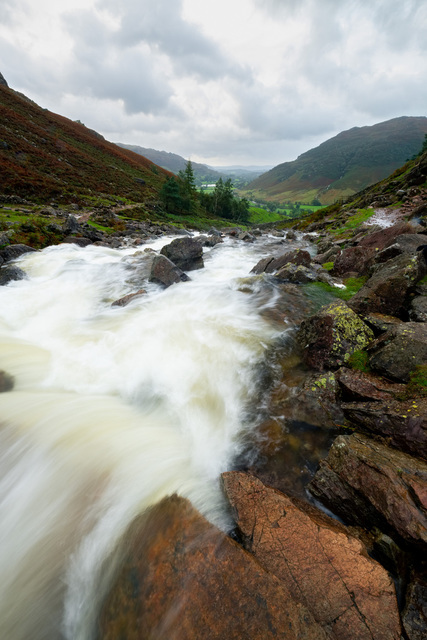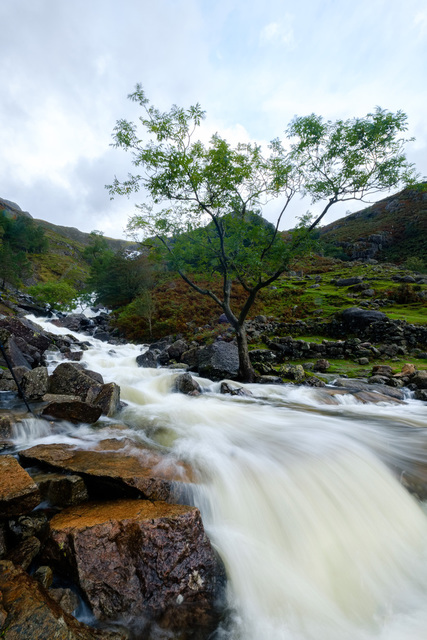 Nigel also tried suggesting the composition below to me (or at least, something similar) and this was a good example and reminder of how everyone sees the world differently: I just couldn't see it. This shouldn't really be a surprise to me—a large part of my day job is observing and understanding how people interact with and think differently about tasks and interfaces. 

It really goes to show how two photographers can be in the same place, with the same equipment, at the same time, and still see different things. I actually this image more getting home and playing with it than I did on the morning, so I think Nigel was right about there being something there. I just couldn't see it at the time, whether it be experience, aesthetic preference or simply being too early in the morning for me to be functioning properly (I'm really not a morning person).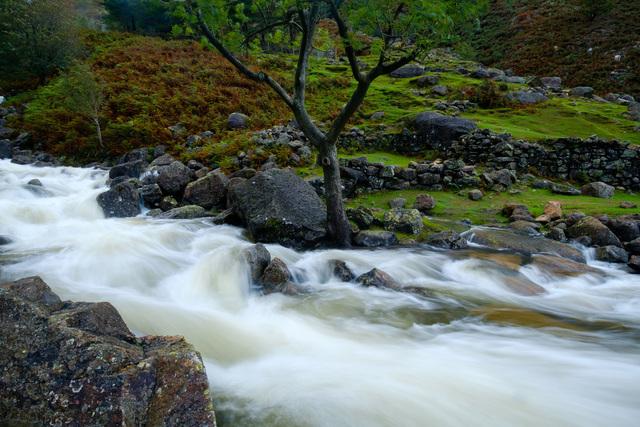 Drones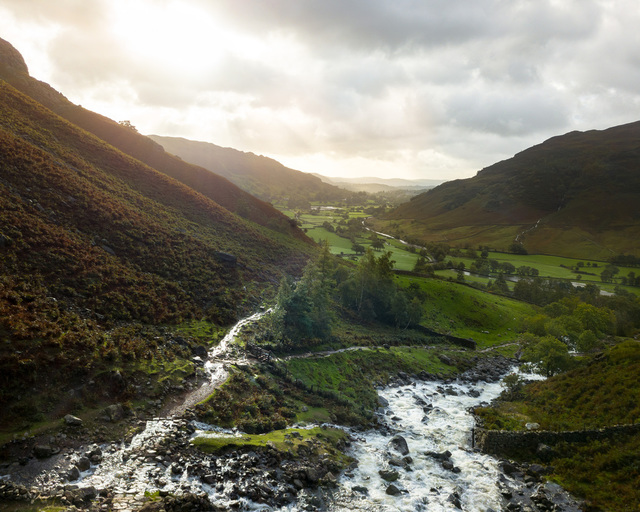 Having got what I felt I could this spot, we decided to fly our drones for a different view. Despite all my prep for this trip I had managed to not charge the remote for my Mavic Pro, which left me controlling just using wifi from my iPhone. I was thankful Nigel reminded me such a thing was possible and knew to find the tiny switch hidden behind one of the rubber port covers. For his part, Nigel had managed to get hold of the new Mavic 2 Pro which looks awesome.
An extremely worrying scare when the phone totally lost signal with the drone aside (a mix of small scramble up the hillside and the drone starting to auto-land brought it back in range before it dunked itself in the river), I managed to get the drone up and take a few images. On wifi the Mavic seems to limit its speed, so it was a pretty clunky experience trying to move around and find good views but I got three images I'm pretty happy with.
The first two are from very similar positions of a very similar view, so I should really just choose one. I like different things about each though: the first has more of the sun starting to break through and warm up the hillside to the left, as well as showing the spread of water in the foreground thanks to the heavy rain; by the time of the second shot, the sun lit the valley ahead and the fence/stile in the foreground are closer and so in more detail while I think giving a better sense of the forked path leading into the rest of the scene.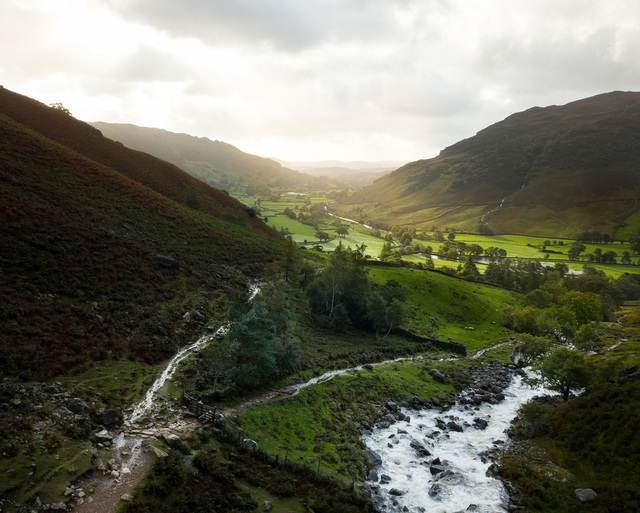 The third image I got with the Mavic is relatively close in, looking up at the main waterfall. With limited signal, this was as high as I could take the Mavic and it just about got the peak into the frame and I think managed a pretty decent photograph.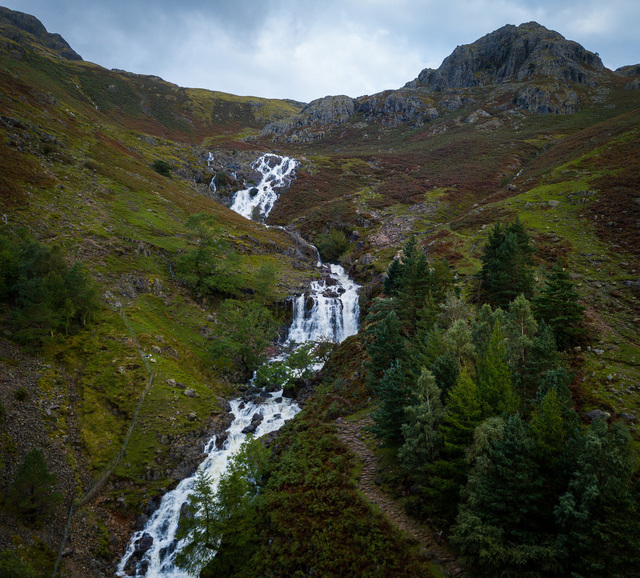 Detail shots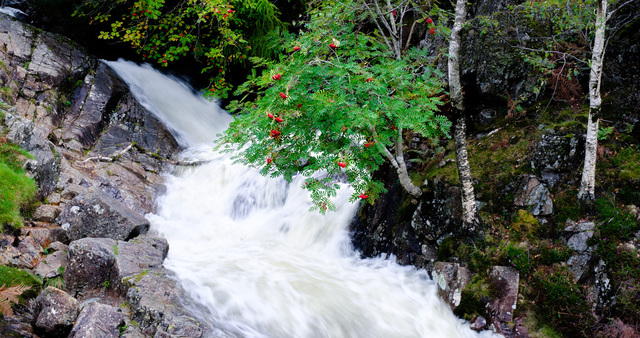 On our climb up, we'd noted a nice bend in the falls to come back to where a couple of trees with bright red berries were hanging out over the water. I was really keen to try and capture the contrast of the green leaves and red berries against the frothing, white water although I couldn't quite get the angle to truly achieve what was in my mind's eye. 
I still quite like the shot above though: I think there's a good sense of direction to the water, drawing you across the image left-to-right and hitting the overhanging tree, ending with the two silver birch on the far right standing out against the rocky, mossy bank.
Check and double-check the details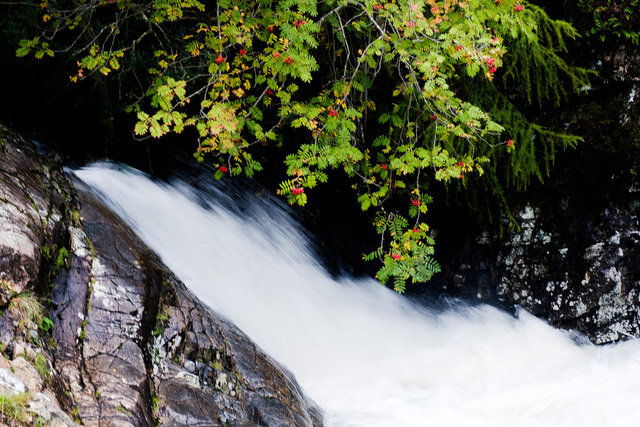 We spent a bit of time moving this scene trying to find good angles and I was firing off quick test shots hand-held as I went, before setting up the tripod. This next image was a bit of a fire-and-forget shot but scrolling through Nigel really liked it on the back of my camera. I thought I'd had a quick zoom in to check, but either way I didn't go back and take the image 'properly' and as a result found out it was blurry after importing images back at our cottage: too late.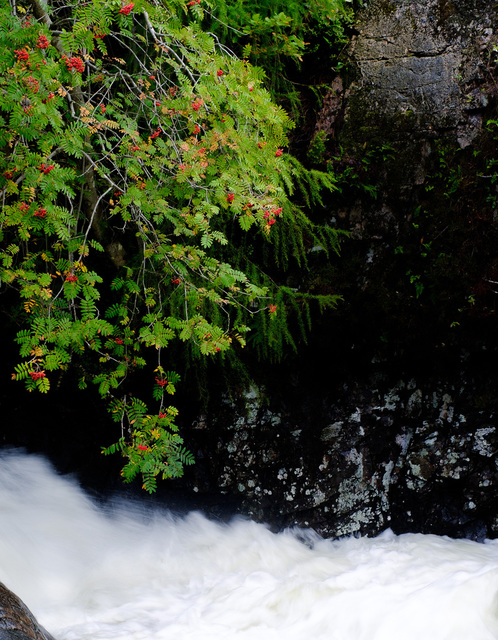 The light had been low and I still had my camera fixed at ISO 200 for tripod-based shooting, leaving an image that could have been. 
But wait! 
While processing my images back home in London, I spotted a very similar composition in the bottom half of a portrait-oriented image that is one of my better attempts this scene.
A quick virtual copy and crop down and I had a much-sharper, almost-the-same composition as the failed image above.
On the plus side, I could consider the image saved. I've got basically the same composition, but sharp and usable. It's lower resolution, having been cropped from the much wider image and I think I might even prefer this second composition with more of the dark rock on the right for balance.
That said, the shift right loses the curve from the top of the water coming over the edge in the original shot and the much lower resolution certainly limits the size I could print at. It's also something I really should have caught, as we discussed the image while still on location as having high potential and so I should have checked and double-checked the details as best I could.
Live and learn! Who said all the lessons of the workshop had to come directly from Nigel, eh? Anyway, here's the second version: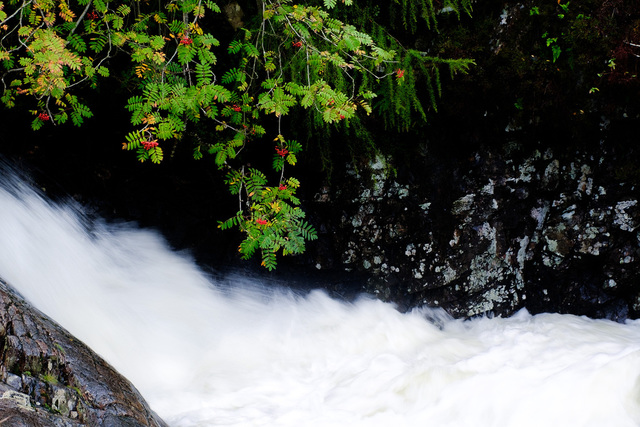 Blea Tarn
I've already shared one image from Blea Tarn, our next location. En route, Nigel stopped briefly to show me the view below as a 'snapshot' for a first big vista. In person I could see that it would probably come across a little flat in a photograph with not much foreground interest so did just take a quick iPhone snapshot. Reviewing the image though, it had more depth than I'd expected so I quickly got the X-T2 out of the car and took a couple of quick hand-held shots before we moved on.
I've been increasingly enamoured with the 6x17 aspect ratio over the past year or so and I think it works nicely here and for a few of the Blea Tarn images to follow. With big wide vistas, it's easy for the scale to be lost in more traditional 2x3, 3x4, 4x5, etc. ratios, as the horizontal scale is deadened by almost equal vertical scale making the width feel small. Panoramic aspect ratios tighten in that vertical field of view to bring back the sense of height while also looking at a broad scene far away.

Arriving at Blea Tarn, we walked round the water a way to a spot that provided a good angle on a small peninsula sticking out, covered in trees and with a single tree somewhat isolated on its end. The hills and mountains behind add depth and interest, and it was a case of setting up a composition and then waiting for the light. We got lucky that the forecast 100% cloud cover all day actually began to break and we did get lovely patches of light moving over the landscape, providing spotlights on different parts of the scene.
I took two images of this first setup I'm happy with: one I think works best in black and white, with the foreground tree line in shade and the craggy landscape behind lit up; the other in colour as the trees caught some sunshine and totally changed the view. 

With the trees in shade and the photograph treated in black & white, the single standout tree sits in silhouette against the sun-lit hills behind.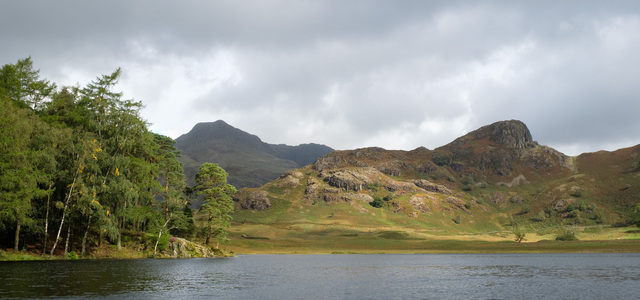 The colour shot is the only frame I got with the trees in sunlight and I think it's my favourite. It provides a proper point of foreground interest and, while the lone tree on the end isn't as clearly defined with the grass behind also in sunshine, I think it works overall. Not to say I won't be back some time to try and improve on this though!
I had included more of the water when framing up but without the water being still or able to take a longer exposure (the light was so fleeting), it detracted from the overall image.
Moving on, we walked further round and into the wood on the left but there wasn't a solid composition and so we tracked back closer to the car park (to the right of the frame above) looking for a composition that focused more on the mountains.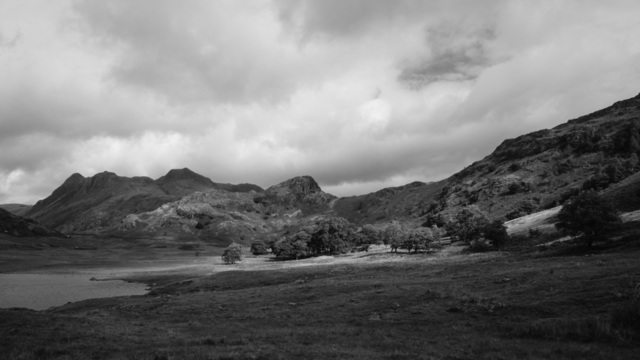 This first shot, I took quite wide and including more of the landscape to the right. It's probably not the best composition but I really like the lay of the light here.
Next up is a frame that's better composed to give a sense of scale to the mountain and also has some nice patches of light highlighting the three key subjects: the trees, the near hill and the far mountain, off to its left where it leads into a valley. 

This is the photograph I've already shared here and on Twitter and feels like my first 'big landscape' photo for better or worse. Despite fighting it, the ridgeline in sunlight on the. right feels like it has too much glow to it and so I'll probably go back and try again on that area at some point in the future but overall I'm happy with it. 
This next shot, however, is my current favourite.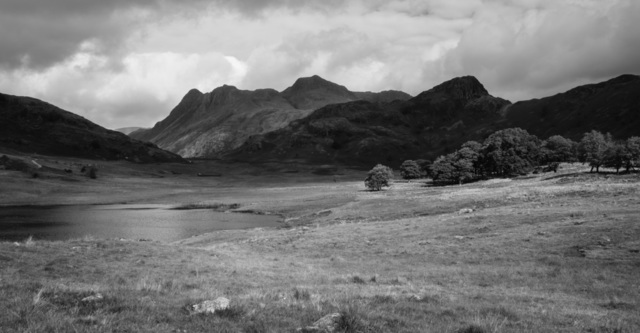 Viewed nice and big, the extra foreground depth and those couple of rocks near in to the camera just add something, while the middle ground ridge being in shade acts as a nice backdrop for the trees and gives some good layering to the image.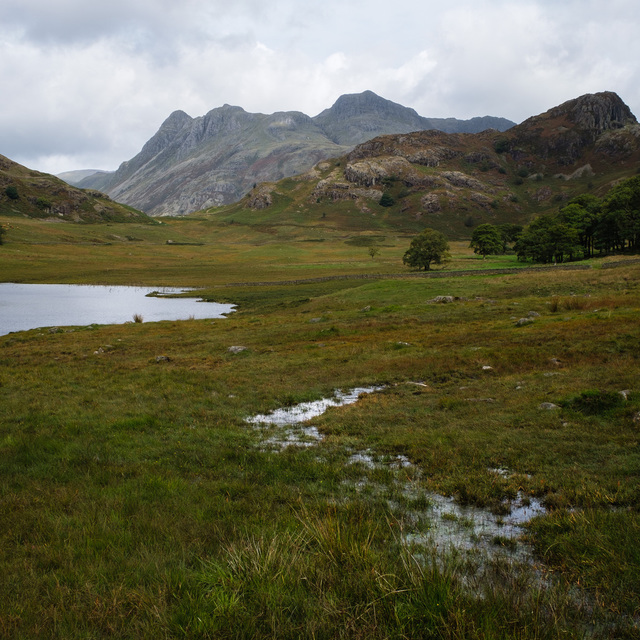 While I was taking lots of exposures from the same basic spot as the light changed, Nigel was having a bit of a wander and pointed out some small water-logged patches that could be a nice foreground element. They do act as a nice leading line into the image, pointing you over to the tarn which can then draw your eye up to the ridges behind. 
There was just no more good light.
With a couple more locations still to go, we didn't have time to hang around and so we moved on, but I did get a reasonable image that I think works as a more muted piece compared to the dramatic images above.
I also that it works as a square crop and acts as a nice counter to the generalisation I made earlier about aspect ratios.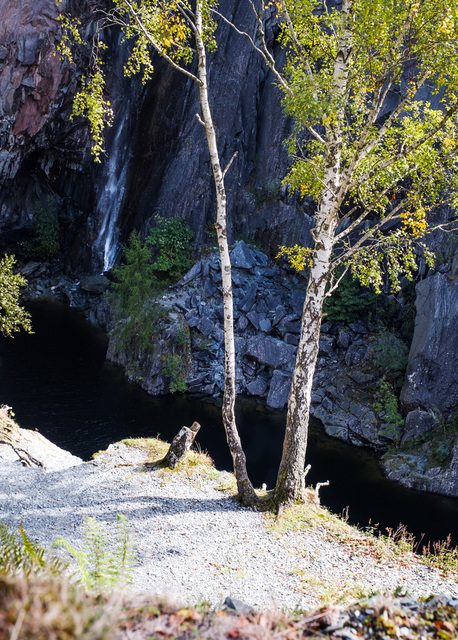 Hodge Close Quarry
Next up was an old quarry, which I believe is Hodge Close Quarry. With so much rainfall overnight, a waterfall had appeared over the quarry wall and I spent a bit of time trying to make a composition work with a couple of silver birch trees in the foreground and the nice dark quarry wall with waterfall behind.
I couldn't quite get it right, but this image is nice enough and it was good just to spend a little time working a scene and seeing what I could make of it. That pesky broken, hanging branch at the top left certainly got in the way of a better image for one thing!
Holme Fell
We then walked on from the quarry and further up onto Holme Fell to photograph more silver birch. We first stopped at a small lake where Nigel was talking about a shot he'd been trying to get for a while. Conditions weren't right for it, but we were going to set up a shot anyway when a man wandered over and struck up conversation. A few minutes later we'd established it was Mark Littlejohn of all people, running his own workshop.
Anyway, we walked on round and there are indeed plenty of lovely silver birch dotted around the area, though the patches of bright sunshine we'd enjoyed earlier were no longer appearing and so it was too much of a struggle to pick out some of the more interesting compositions. 
We tried waiting at a couple of spots for the right light to show up without any luck and I slightly ridiculously got a phone call, with perfect reception, in this location that was so quiet and seemingly removed from the world.
Moving further round, there was another pair of silver birch that looked promising if the light arrived, but while we waited I noticed an interesting scene off to our left. A lone silver birch standing on the crest of a hill, with a trio of silver birch much closer in. We both had the Fuji 50-140 lens on our X-T2s and at the wider 50mm (75mm full-frame equivalent), the scene I could see came together really nicely as a vertical composition.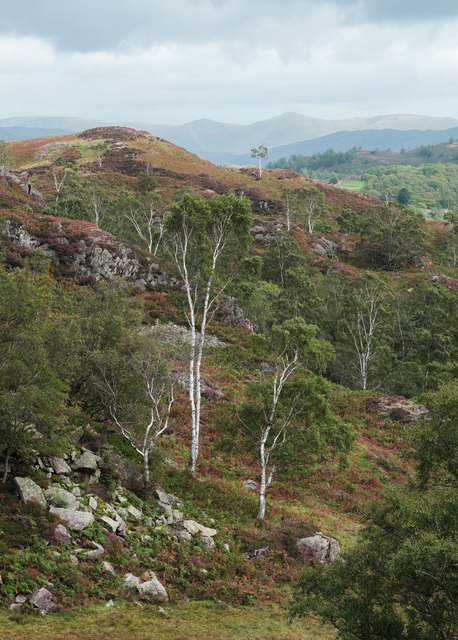 I took 11 frames of the same basic scene while we stood chatting and waiting for better light on the pair of trees we were 'meant' to be photographing and I'm really happy I did: I think this is one of my favourite images from the week, maybe even my favourite as I let them settle.
Still recovering from the flood of our house earlier in the year, I have a new printer but currently no decent paper. I'm really looking forward to printing this image once I do though. Earlier in the summer I went on a full-day printing course with Doug Chinnery and Valda Bailey which was really helpful, paradoxically in both making clear that printing photographs isn't such a dark art as can be made out but also picking up some really helpful tips, not least in paper selection and matching.
Wrapping up day one
I'd really been looking forward to this workshop with Nigel Danson. We'd originally been booked for early March but the Beast from the East prevented it at short notice and Nigel was good enough to reschedule for later in the year. Thankfully, 9 months on from having first booked it I'm really happy with the day and having been able to spend time with Nigel getting a bit of guidance, shown a good mix of locations and landscape styles, an insight into how he works and possibly as much as the rest just some interesting conversations.
Nigel's Youtube videos do a great job of inspiring me to get out and make photographs and getting to spend some time in person was really useful for me. We moved around quite a bit in order to cover different styles of photography and on the day, I wasn't really sure I'd got anything that great. 
Looking back over these images however, I'm really pleased with a few of them and I'm both inspired to get back to the Lake District for some more dedicated photography time as well as generally inspired to get out and shoot more locally. Autumn's finally here and I can't wait!
I got one other chance for landscape photography during our family trip: just a few short hours on our last evening in the Lake District. Those photos will follow in another post.