Photography
St. Mary's Island panorama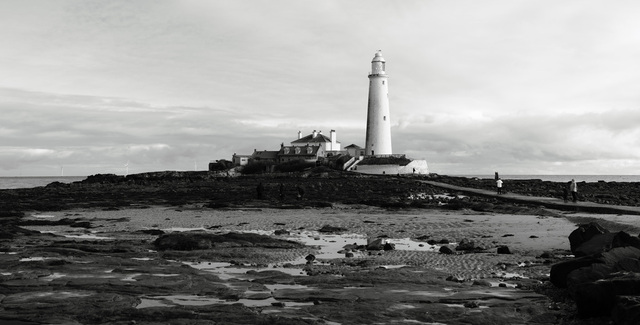 Being so close by, I photograph St. Mary's Island quite often—usually on quick trips with my kids—but changing tides and weather always offer up something a little different.
Another black and white image of the island and lighthouse was one of my favourite images of last year and this panorama taken a couple of months later, on October, is another I really quite like.
Taken further round on the beach north of the causeway, it's a higher contrast image than the more moody, misty day I had in August. The panoramic ratio of course gives a wider view but the island and lighthouse fill more of the height of the frame, allowing them to impose a bit more.
Taken quickly, I think I could have moved left a little and got a stronger reflection of the lighthouse in the mid-ground tide pool, while the foreground is a little messy dotted as it is with small pools reflecting the sky against the darker rock. 
So it's far from perfect and wasn't going to make my top 4 for the year, but all the same I do like the overall feel of it. There's a crispness to the contrast that I like, and a nice overall balance to the image.
It's an image that works better viewed as big as possible and so I may get it printed nice and big. There's such value in printing images but I need to figure out what to do with them all. Time to invest in some portfolio boxes perhaps, as I've only got so much wall space and plenty of other photographers' prints I want to hang.