Driving home from a tiring day scouting locations in the Otterburn range last July I spotted a lone oak(?) tree across some farmland, picked out against a wheat field and framed on three sides by green.
Luckily there was a lay-by to pull into and, while worn out and in a hurry to get home, I jumped out of the car to capture a reference shot for another day. 
The image below shows how far away the subject was from the road, but it really stood out to me.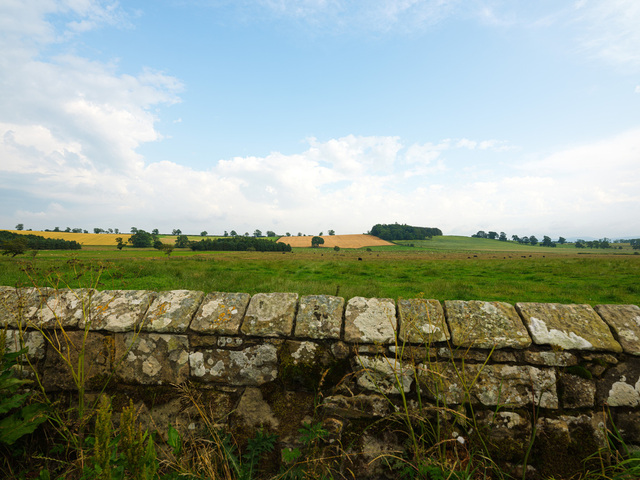 I had the GF 100-200mm lens on the GFX 50S, taking two hand-held frames. This surprised me, looking at the Lightroom catalogue 9 months later—even for cheap reference shots I often take a few images to cover bases—but I really must have been tired!
As you can see, I chose to crop into a pretty wide panoramic frame when doing a very quick post-process on the image. The snapshot above shows that there wasn't a lot of foreground interest other than the sheep quite close in to the tree, while the sky was pretty bland too. I liked the framing of the green fields and small wood around the more sepia wheat field that silhouettes the subject tree.
It's far from a perfect image or the ideal for this scene, but that's not the point of reference shots. This serves me more as a visual notebook so that I can choose to go back some day and work the scene properly, with time and focus.
Ideally, I'd have a higher vantage point so there's a little more headroom above the top of the tree before you hit the line of the hill, while the trees poking up from the horizon aren't fantastic either. With a higher angle of view, I could maybe frame in much closer and lose the horizon and sky completely.
It's another image logged in SceneMapper for the right conditions to line up with my ability to get out and photograph, anyway.