Photography
Cullercoats Bay, looking back from the harbour wall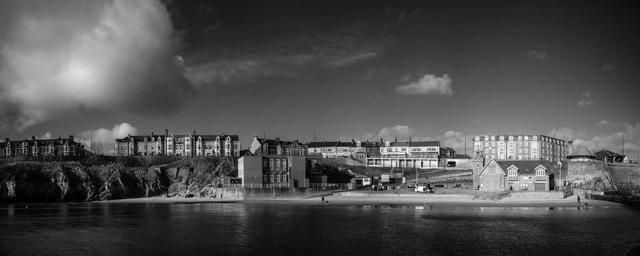 With an hour to spare one morning in February, I took the opportunity for a quick walk around Cullercoats, winding around the top of the bay then down and onto the harbour wall.
The tide was quite far in and the water calm, so walking out onto the harbour wall gave a great view looking back in towards land, as if hovering over the sea a couple of hundred yards out.
With my Fuji GFX 50R paired up with the tiny little Voigtländer Nokton 40mm 1.4 lens in 35mm mode (cropping the sensor to 30.5MP but maintaining the 40mm full frame-equivalent field of view), I needed a small panoramic stitch even to make the simple square composition I wanted: 3 landscape frames, stitched vertically.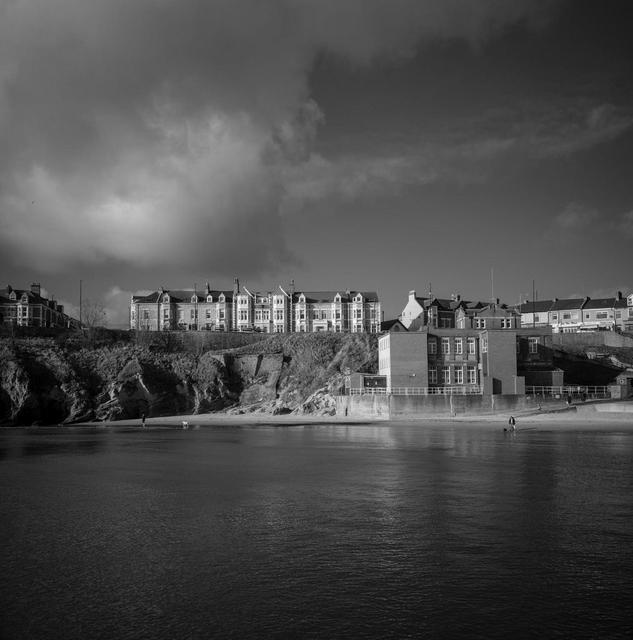 With the more focused composition done (which I ended up printing up as a set of greeting cards), I couldn't help but also have a go at capturing the wider panoramic view of the northern half of the bay—the image up at the top of this post.
I didn't have a tripod with me but I've found even with high-res cameras like the GFX, I can often get away with hand-held pano stitching as long as there's enough light. Shooting hand-held does tend to be a less deliberate process for me though—less time spent really checking the edges and composition—which of course has its downsides.
In this case, I think it worked out well, still giving me a 75MP finished image that has way too much detail to really appreciate on even a very large screen. Without looking at it in something like Lightroom, it's too hard to zoom in and pan around to see the little details: like the guy bent leaning on his knees, contemplating the cold North Sea swim he's about to begin, or the cyclist cruising round the top of the bay.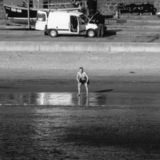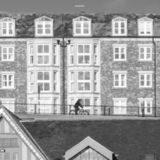 I like imagining the stories behind these little vignettes of a larger scene, and this wide panorama has a nice distribution of people captured, each in their own world: the dog on the far left that seems to be on its own, but has an owner nearby once you go looking; the man sitting in front of the lifeboat station watching something off to his side; the kids playing on the far right of frame; the surprise swimmer walking out but still in the water on the far left… many more.
I'd love to self-indulgently print a number of my panos at huge size to reveal these details, but lacking a gallery space I unsurprisingly have nowhere to actually put them.
I'll carry on making these big panos though. They're so easy to make these days and I enjoy the detail for myself.